Customized shipping packaging, how to choose?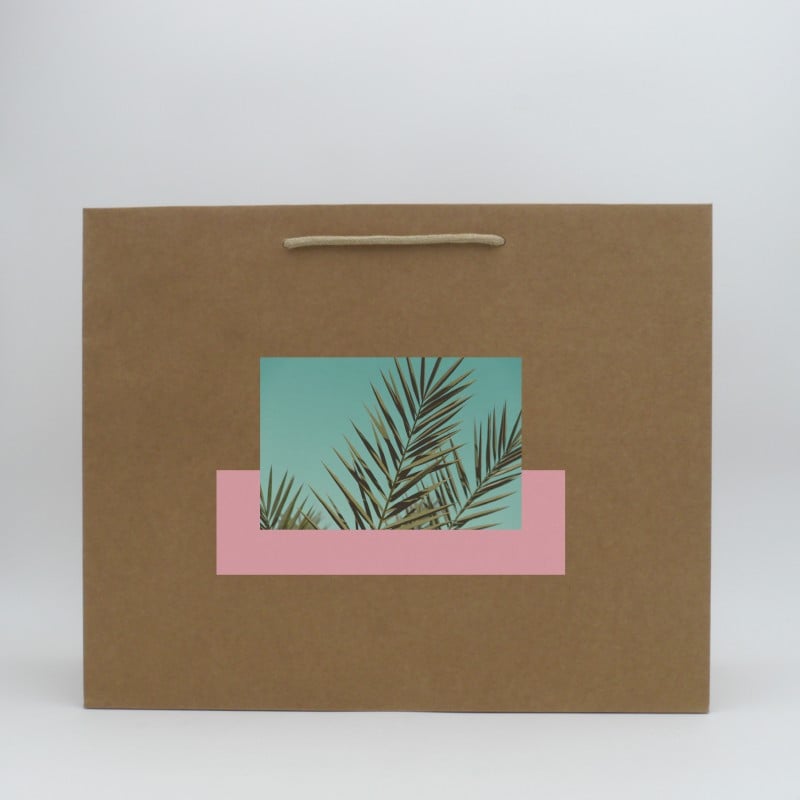 By Max Fromont
How do I send a delicate product safely and securely?
As we have shown in our previous blog posts, online sales are growing rapidly. We can see that many customers are getting into the habit of ordering their products online, previously purchased in physical store. This evolution of consumption habits must be listened to by the retailers, many companies are adapting by digitalizing and now offer many products on their online stores.
These products bought online are very often sent to customers. The packaging of the product, as well as the container are therefore one of the only physical points of contact with the customer, other than the product itself. It is therefore important to opt for a personalized mailing packaging transmitting the values of your company.
What packaging should I choose for online shipping?
In order to guide you in the personalized packaging you could use, we have created a category : "e-commerce". In this category we present you the different models of boxes which can be used to send parcels in the best conditions. Personalized shipping parcels must meet some essential criteria such as solidity, robustness, but also remain elegant. It is important that they convey your values, even more so when they represent one of the only tangible points of contact for your brand.
Customized shipping box Postpack
Here is a list of items that you will be able to ship very easily thanks to our shipping boxes:
Wine Bottle / Alcohol Bottle
T-shirts / shirts
Candles
Flowers
Food
book
gift
belt
An infinite number of uses can be found for this box.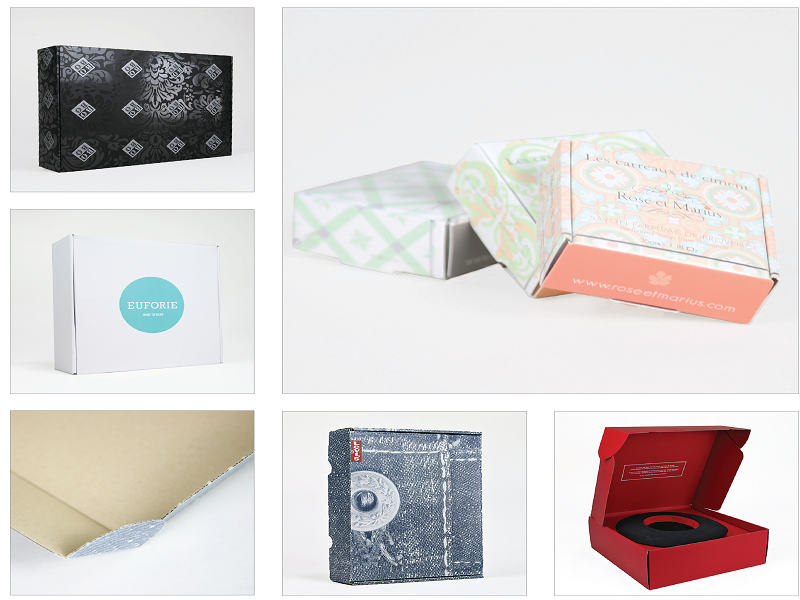 The shipping box offered by Centuryprint is the Postpack. This shipping box is very strong, but remains nevertheless luxurious and visually pleasing. Shipping box in NATURAL kraft color, glossy black or white that is delivered flat. This POSTPACK box made of resistant corrugated cardboard of 400 gr/m² is ideal for your Eshop shipments. The formats are adapted to protect standard HINGBOX boxes as well as any other container, usually rather flat.
These boxes are delivered flat, assembly is easy and intuitive. Count less than 15 seconds per box. The formats are compatible to fit the HINGBOX magnetic box:
Format: 16.5x12.5x3 cm is designed to fit Hingbox 16x12x2.4 cm
Format: 22.5x17x3 cm is for Hingbox 22x16x2.4 cm
Format: 31.5x22.5x3 cm is for Hingbox 31x22x2.4 cm
Format: 36.5x24.5x3 cm is for Hingbox 36x24x2.4 cm
The size of the boxes indicated in centimeters is the inside size, there may be a tolerance of +/-0.5 cm.
We have also created models of shipping boxes that can contain some evobox and wonderbox models. This is particularly convenient because you will be able to secure your product box, while offering a unique shipping packaging in your world. The Wonderbox, just like the Evobox, is a magnetic customizable box. They are available in many colors and sizes.
By using the personalized silk paper that we offer, you will be able to fully immerse your product in your universe inside the shipping box. silk paper can be used as padding and will prevent your product from moving inside the box.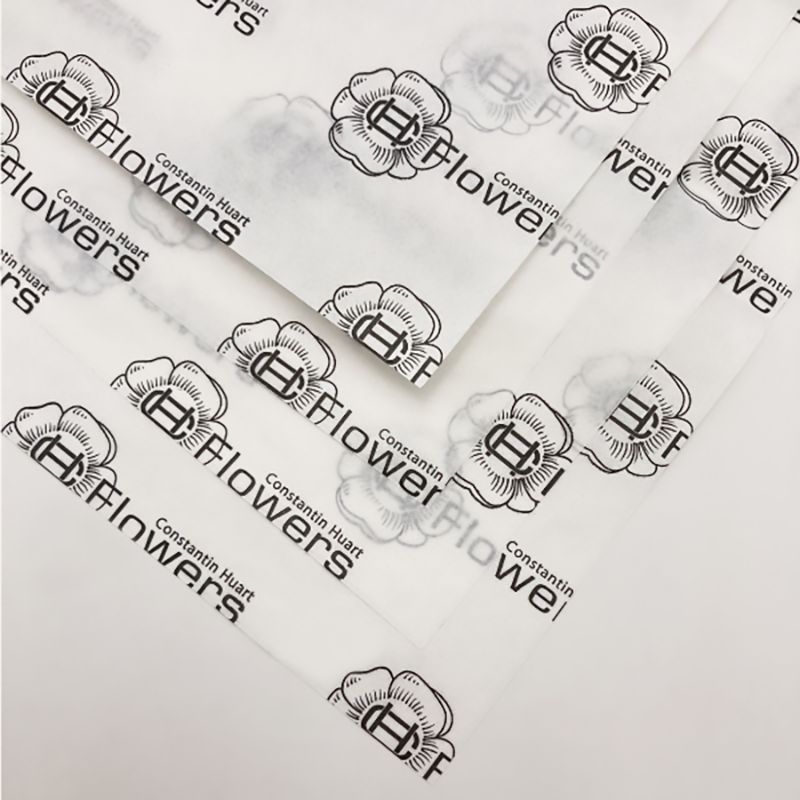 In accessory packaging, Centuryprint offers you printed silk paper, designed to pack your most delicate products. This environmentally responsible silk paper is a real asset for your business by its elegance and finish. This printed tissue paper secures your products in a discreet way, you can use it to wrap your most precious objects. This personalized tissue paper can also be used as stuffing to fill your boxes and secure the product gently, ensuring trouble-free delivery to your customers. This personalized silk paper will be appreciated by your customers when unboxing their favorite products from your company. store. The printed tissue paper will be recognized by your customers and will be a guarantee of quality. It is important for a business to develop its visual identity, this natural tissue paper will help you to increase the recognizability of the products of your company.
shipping pouch
Another model of shipments packaging that we have developed comes in the form of pouches. These sleeves are very resistant, you can use them with confidence. The plastic mailing pouch is very strong and also waterproof. Personalization is available on one face. Use it to send documents, or choose a larger template and send flexible objects such as scarves or light t-shirts. They are also opaque, the content will be sent discreetly.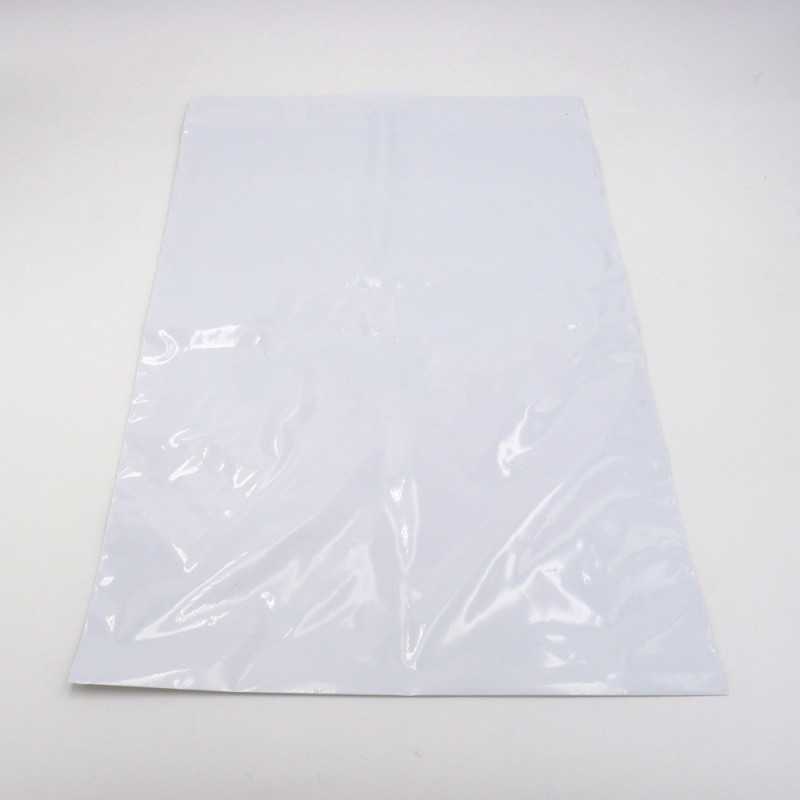 However, it is quite possible to opt for a fabric pouch or a paper pouch and pack it in one of our shipping boxes. All our customizable pouches are printable with your logo or image. The different sizes of our pouches can be easily packed in our postpack. This assures you a safe shipping and an even greater immersion.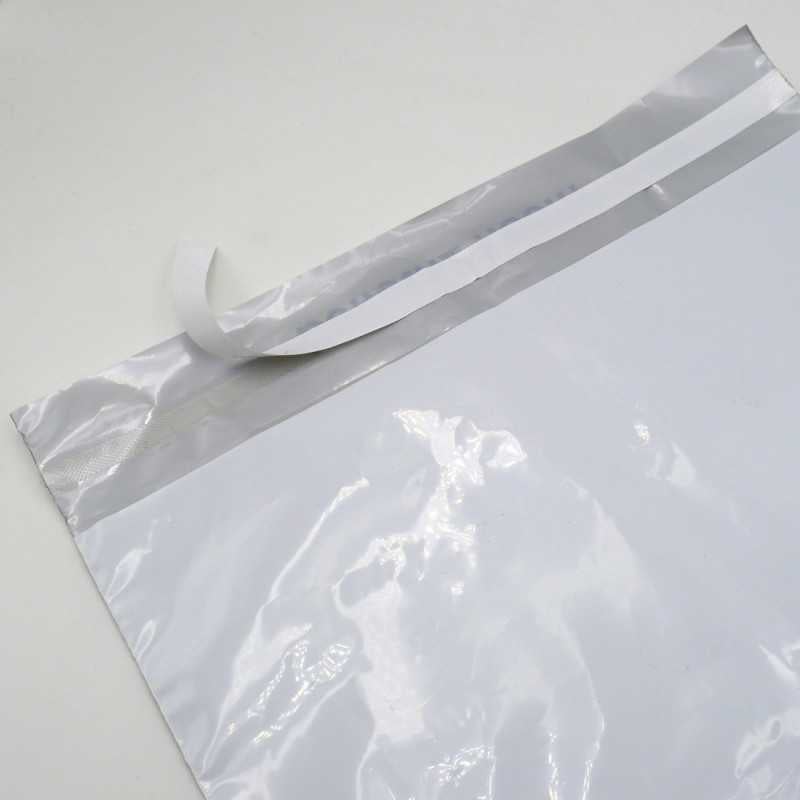 Eco-friendly shipping packaging
It is important for the environment to adapt some of our habits by finding new solutions. At Centuryprint, we strive to find packaging solutions that are increasingly environmentally responsible. In order to meet this need for environmentally friendly packaging, the Postpack has been made of kraft paper. This personalized kraft paper mailing box is therefore very easily recyclable. It is also durable and resistant, you will have the opportunity to use it several times.
The Postpack box is available in many sizes, and can easily be combined with our other types of customizable reusable packaging. In fact, you can use it to hold many other types of packaging that we offer. The volume of this packaging also gives you the possibility to use it for many types of products, fragile or bulky.
Centuryprint offers a wide range of recyclable and therefore environmentally responsible packaging. Indeed, reusable customized gift boxes, recyclable paper bags and recyclable silk paper are just some of the options available in Centuryprint's online packaging store. In a world that is constantly changing and where every company has increasing social responsibilities, Centuryprint offers you the opportunity to switch to eco-friendly packaging solutions. Our different types of packaging are studied and designed to limit their impact on the environment by being made of 100% recyclable paper. Recycled paper emits half as much CO2 and also consumes half as much water. These elements are very important for Century Box and we are continuously looking to develop new techniques to reduce our environmental impact. For this reason, we have also designed Never Ending Packaging. In order to combat the one-time use of the personalized packaging we offer, we strive to make it as durable and strong as possible. By doing this, we are able to offer packaging solutions that your customers will reuse and not immediately throw away in the trash.
One of the advantages of using sustainable shipping packaging is that your customers will reuse your custom packaging. By doing so, your brand image improves with them, as does your brand recognition. In addition, your customers will appreciate having a dedicated shipping package from your company for your e-commerce. We know all Amazon or bol.com packages.
Types of customization for shipping packaging
The Postpack shipping gift box is customizable through several printing techniques. First of all, screen printing is available in several combinations. You can choose up to two different colors for your printing. In addition, digital printing is also available to personalize your shipping boxes. Available in several colors, you will be able to opt for a customizable kraft shipping box just like glossy black cardboard is offered.
The plastic shipping envelope is customizable using flexographic printing. This technique allows one or two colors to be applied on one side of the envelope while the other side remains available for delivery services. By adding that personal touch to the mailing envelope, you will show your commitment to your customers. The printing quality is very high, so you can print a very nice image of yourself.
In order to personalize the silk paper, we offer 2 printing techniques. On the one hand offset printing is available, and on the other hand flexo printing. These two printing techniques offer you the possibility to add your design on your personalized tissue paper. This will be sublimated and your customer will be immersed in your world.
Unboxing of boxes and shipping parcels
When sending a package to your customers, it is important to provide a satisfying unpacking experience. You can achieve this by opting for a customizable shipping box that immerses your customer as soon as the package is received. Next, you can opt for Postpack packaging, to wrap your product in the appropriate packaging. Add a personal finishing touch by choosing the printed tissue paper and your customer will be ecstatic. He will be able to share his unboxing experience on his social networks while showcasing your product. This total unboxing experience can help you build customer loyalty, which is essential in 2020. Many customers will be charmed by your personalized shipping packaging.
In our blog article about unboxing we give some tips to give you the tools to succeed in offering a pleasant unboxing experience to your customers. You will learn how to convey your brand values through a personalized shipping package.
Buy packaging to send package by post.
Centuryprint offers you many customized packaging solutions for shipping. Indeed, a wide range of customizable packaging products is offered. You are able to order personalized shipping boxes starting from 50 units and delivered in a short time less, than 15 days. Consult our different product categories and find packaging adapted to e-commerce while being recyclable. Our business guides offer you the possibility to find customized packaging solutions for different uses. Jewelry packaging, personalized food packaging or even boxes and bags for cosmetics. Numerous possibilities are available to you.
Examples of shipping boxes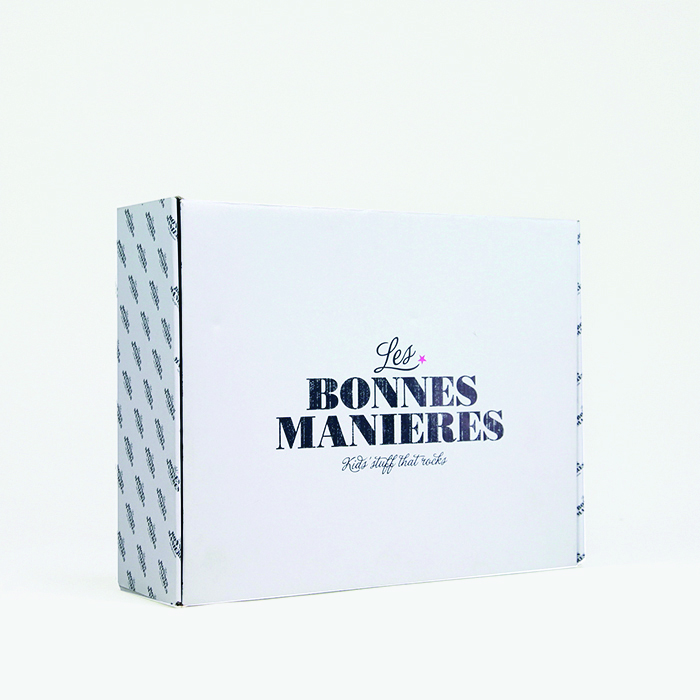 This white Postpack Outbox has been fully customized. For a complete personalization of your box, we invite you to visit www.centurybox.be. You will be able to discover our most beautiful realizations. We are always at your disposal to develop the packaging of your dreams for your most beautiful projects.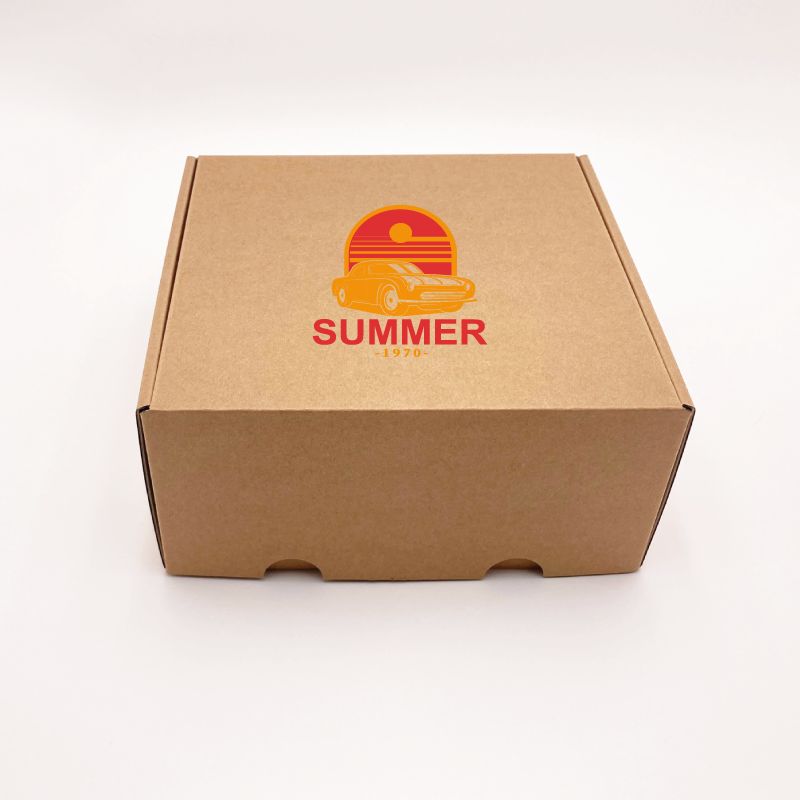 This Postpack is available on our online store from 50 units. This model has been personalized thanks to silkscreen printing. You will be able to affix your image in one or two colors on one side. This personalized kraft shipping box is very resistant and solid, you will be able to use it to send your most precious products.
Published on 2020-12-16 13:24:19