Ecological packaging, the new priority for packaging in 2021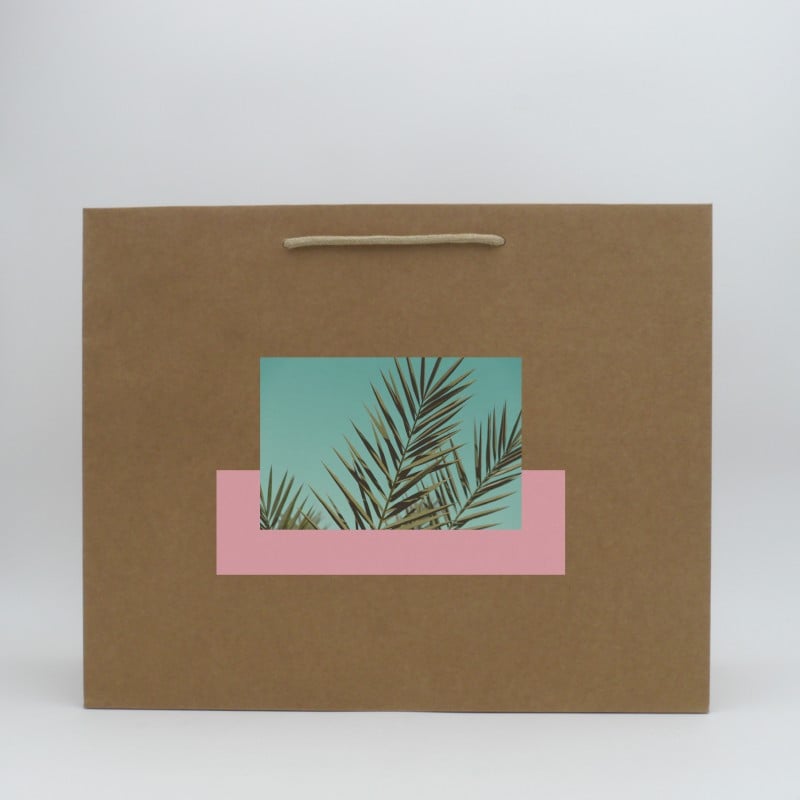 By Max Fromont
Ecological packaging, the new priority for packaging in 2021
Introduction
In this article, you will have the opportunity to better understand eco-packaging and understand the value of eco-responsible packaging through the sustainable development explained through the objectives taken by the UN. We will then explain how sustainable packaging is a win-win situation for all stakeholders.
We will then explain some examples of environmentally responsible materials used for environmentally sustainable packaging, such as cotton, tissue paper or kraft paper.
We will end this article with a number of tips that you should know before placing an order for environmentally friendly packaging. We will also offer you tips on responsible printing and on the type of order you should place to be environmentally friendly.
After reading this article you will be armed with a better understanding of the characteristics of this trendy eco-packaging that will become more and more important in the world of tomorrow.
Definitions
First of all, it is important to have a clear and precise idea of the subject developed in this article. When we talk about sustainable packaging, many concepts come into play, including the concept of sustainable development, which is at the centre of much debate at the moment. There is also the concept of the 3Rs which we will apply to the responsible packaging industry.
Ecological packaging
There is no universal definition around sustainable packaging. Although recyclable packaging incorporates a technical feature that is environmentally responsible, this feature is no longer sufficient in the 21st century.
Indeed, one must have the option to recycle a certain material, because it is important to do so. If today we want to create cardboard from scratch, we have two options:
Use the less environmentally friendly traditional route, the one that works with paper made directly from trees. This technique requires cutting down trees, transporting the many tons and transforming them into paper which, once assembled, becomes cardboard.
The second channel is recycling, the most desirable and part of the 3Rs concept explained below. Here, the idea is to use used cardboard and paper as raw material. We no longer have to cut down trees to get the fibre needed to make strong paper. The fibre is taken directly from the paper and cardboard that we recycle. There is therefore a need for upstream waste sorting, cleaning and processing to turn our old newspapers into the cardboard boxes of tomorrow.
Therefore, environmentally friendly packaging can be defined as recyclable but also recycled. Because it is important to be theoretically recyclable, but if in fact it already comes from the recycling sector, we can be sure that its ecological impact will already be less than that of traditional packaging.
Sustainable development
Like eco-friendly packaging, there is no internationally agreed definition, however in 2015, an agreement was reached by the member states of the United Nations at the Summit on Sustainable Development. This agreement entitled "Transforming our world: The 2030 Agenda for Sustainable Development" sets out the 17 Sustainable Development Goals, also known as the SDGs. Different dimensions are targeted with the 5 pillars of sustainable development: the planet, humanity, prosperity, peace and partnerships.
Goal number 12 of 17 aims to establish sustainable consumption and production patterns. Today, we are unfortunately adopting consumption patterns that are not very responsible and lead to excessive use of natural resources and destruction of our planet. The goal now would be to "do better and more with less", this by increasing our resource efficiency and adopting more sustainable patterns of consumption and production as outlined by the United Nations website. If we wish to continue to develop our economy, it must be done in a way that drastically reduces our ecological footprint.
The 3Rs
The concept of the 3Rs has become widespread in recent years. This economic and environmental model is simple to understand: it advocates the integration of Reduction, Reuse and as a last step, if really necessary, Recycling. The 3Rs concept is fully in line with the logic of the circular economy.
To avoid getting into the more complicated theory, let's take a telling example with a recyclable cardboard box.
When a customer leaves your shop with a simple t-shirt, what would be the best choice if they already have something to carry their purchase? The answer is simple: ask them if they want a small box rather than packing by default. It could very well be that your customer, concerned about the environment, will refuse your transport box. This is the first "R", i.e. waste reduction. As the saying goes, the best waste is the waste that is not created.
How is it advantageous not to supply a box to a customer who does not want one?
You show your ecological values to customers
The customer leaves the shop having understood your environmental intentions
The customer will not have to get rid of a box they never asked for.
You keep an extra box for someone who really needs it
We can also illustrate the principle of reuse. The boxes we offer are strong and durable. This is a prerequisite for the reuse of packaging.
By offering quality boxes to your customers, you will have the opportunity to have a continuous presence in your customers' homes. You have the opportunity to make an aesthetically pleasing box that will be used many times, whether it is for storing documents or shoes, you will remain permanently in the minds of your customers. A winning choice for you and for them, who will find many uses for your packaging
Recycling is the last possibility for your box in the 3R concept. Once the customer no longer needs your box, since it is cardboard, he will have the opportunity to throw it in a cardboard bin so that it can be recycled.
It is therefore essential in the 3Rs concept to follow the following order: reduce, reuse and recycle. This may come as a surprise, as recycling is often considered the magic bullet, but in reality it should not be the first thing you think of!
Eco-friendly packaging, a win-win choice
When you opt for environmentally responsible packaging, everyone wins, and that's what makes the difference in the modern world.
The end customer. Your customers need to be informed about your environmental policy and corporate social responsibility (CSR) efforts. By understanding this, they will see that you are a player in the world of tomorrow and that you are influencing the world positively on your own scale.

With this in mind, you will no longer be seen as just a company, they will attach different positive values to your brand. This is something that is not to be underestimated in today's competitive world.

Your company. By building a positive image, you will have the opportunity to create a relationship of trust with your customers. You will be able to show the full integration of your ambitions with your healthy products and environmentally friendly packaging.

In addition, you have the opportunity to offer your products online and at the same time offer a postal service with environmental peace of mind. Over the years, we have heard about the importance of digital commerce for greenhouse gas emissions. Fortunately, with environmentally responsible packaging, you have the opportunity to minimise your impact on the planet as much as possible.

Have you ever received a huge cardboard shipping box when you ordered a small item? Unfortunately, we often experience this mishap.

So what is the solution to the problem of oversized shipping boxes? The empty space in the packages should be minimised, the packages should be compact and not carry air. What is the point of carrying empty space? There is no point in carrying empty space. By having a shipping box that fits perfectly into the box of your package, you will be able to pay less for your transport, reduce the space taken up in planes and trucks and avoid extra journeys that pollute the planet.

You have the opportunity to do this with our Postpack, a 100% recyclable and recycled cardboard box that matches our premium magnetic Flatbox. As well as having economic and environmental gains, you will be sending a parcel that is securely protected. Your item will be secure all the way and will avoid being banged around.

Our planet. The ultimate winner is the planet, and that is perhaps the most important thing in the end. By consuming more responsibly, we use up fewer resources, leaving more for future generations.
Eco-friendly materials
Cotton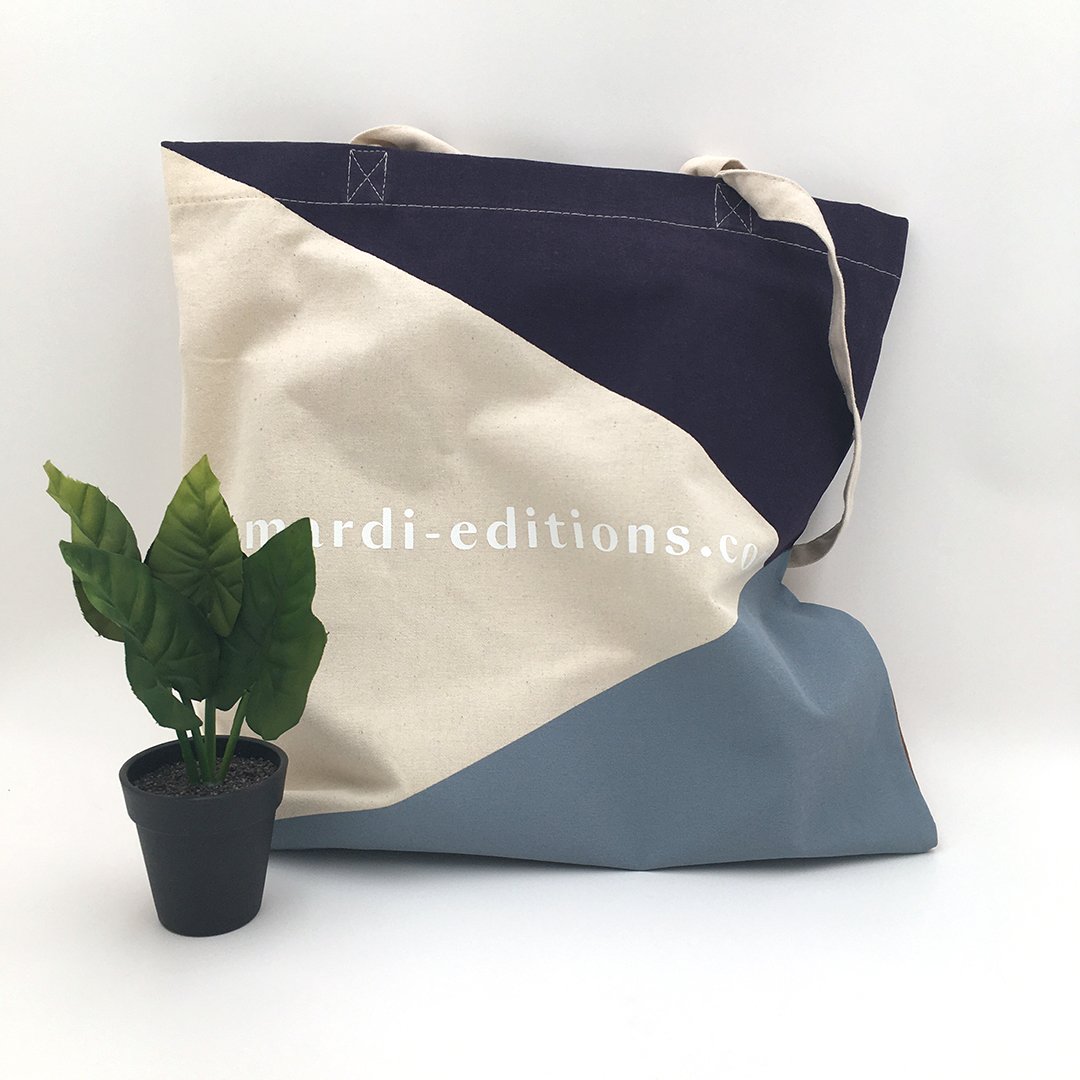 This material, as well as being aesthetically very sober and fashionable, is becoming more and more trendy as the years go by. Many Tote Bags made of cotton are present in the streets. This choice of material actually makes sense given the technical characteristics that organic cotton offers:
Weight resistant
Moisture resistant
Recyclable
Biodegradable
etc.
This texture will undoubtedly remain a trendy and eco-friendly material. We often ask ourselves if we can personalise a tote bag, and the answer is yes. This type of bag personalisation is ideal for a company because it allows it to assert its ecological ambitions through a classy and ecologically responsible object. Large cotton bags, also called cotton tote bags, are a trendy accessory for young people. Often used for shopping, picnics or school, it will enhance your brand if you decide to print on this cotton bag.
Corn starch
This type of material has nothing to do with reusable cotton as it has a much shorter life cycle. Just like traditional plastic, it is quickly discarded. The good news is that here it is fully biodegradable and contains no petroleum-based chemicals. We are dealing with what we call a bio-plastic. It is a modern and resistant alternative to the current plastic waste problem.
Indeed, did you know that the packaging industry is responsible for 40% of plastic waste in Europe according to figures from the European Parliament ? It is therefore essential as a player in this industry to propose concrete solutions to solve today the problems of tomorrow!
Kraft paper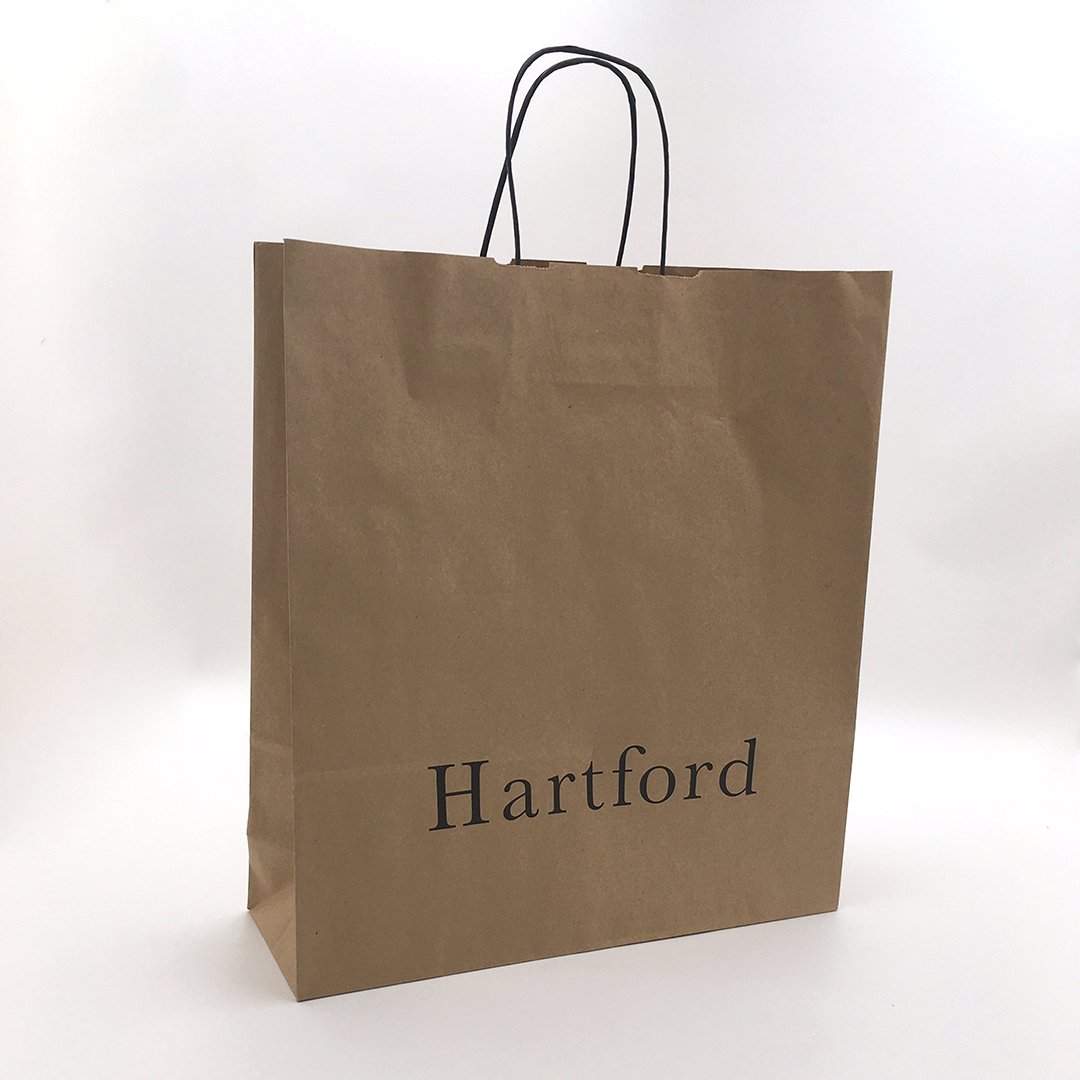 Kraft paper is without doubt the solution for which you will have the best economic-ecological ratio. The difference with the white paper we all know is that kraft paper is not bleached. This is the major difference that changes everything. Why is unbleached paper important? Quite simply because it is the most polluting step in the production of paper. Chlorine dioxide is the chemical element used in most cases in paper mills.
In addition, it is difficult to get white recycled paper. In addition to being very expensive, both economically and environmentally, it is difficult to obtain at all. Virgin fibres are always needed, making it difficult to get 100% recycled.
Our range of products made from kraft paper mainly consists of magnetic boxes, shipping boxes or our range of boxes delivered flat.
Tissue paper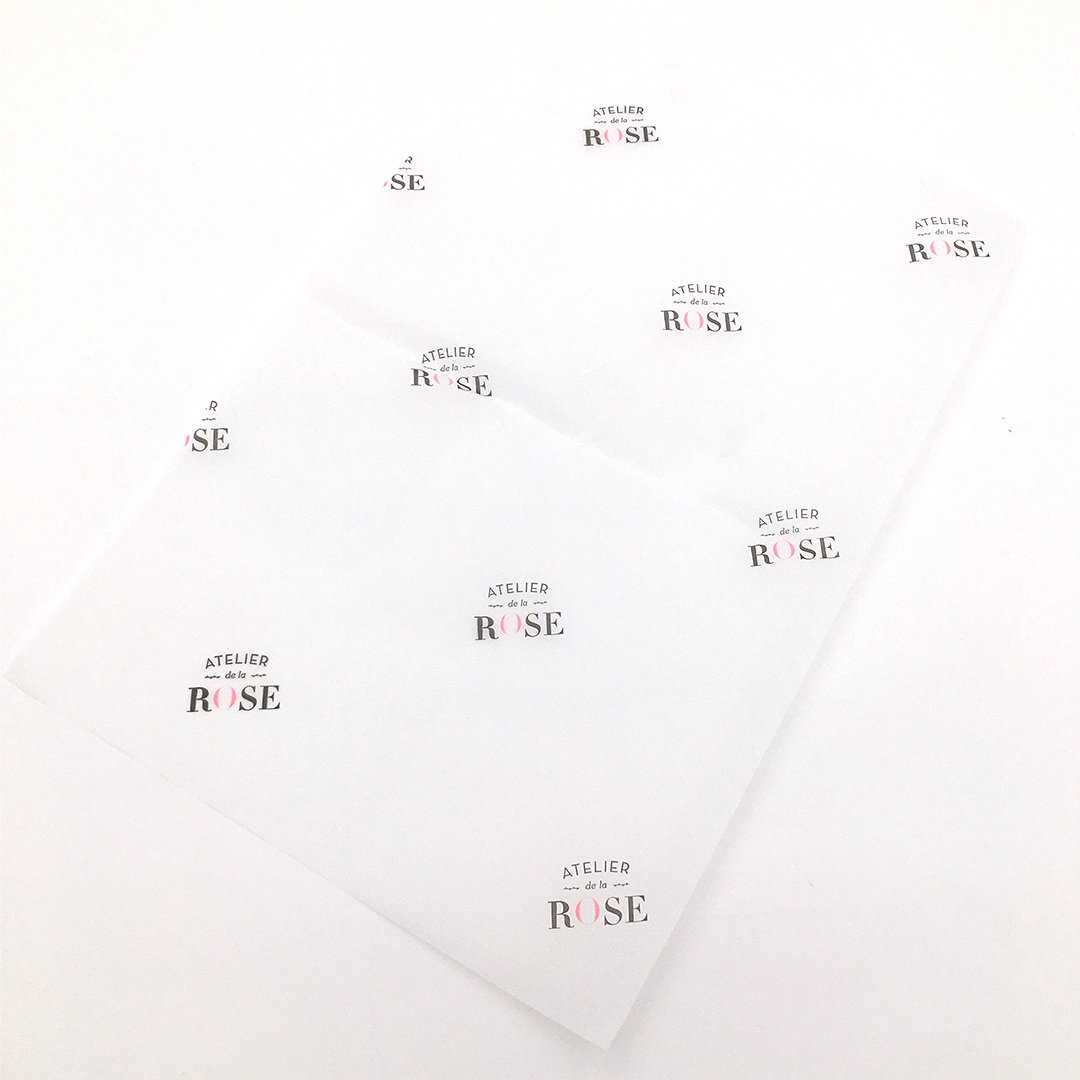 The tissue paper is not a material that allows you to make a packaging from start to finish, which is normal because its primary purpose is to protect delicate goods. Think of candles, wine bottles or flowers. Stop using the standard polystyrene cushioning particles, also known as polystyrene chips. Why use non-recyclable materials when there are solutions? On top of that, there is a wide range of colours available for tissue paper to make your packages lively and full of life.
Here are the many advantages of tissue paper:
Recyclable
Recycled
Biodegradable
Compostable
Customisable
...
Shredded paper filler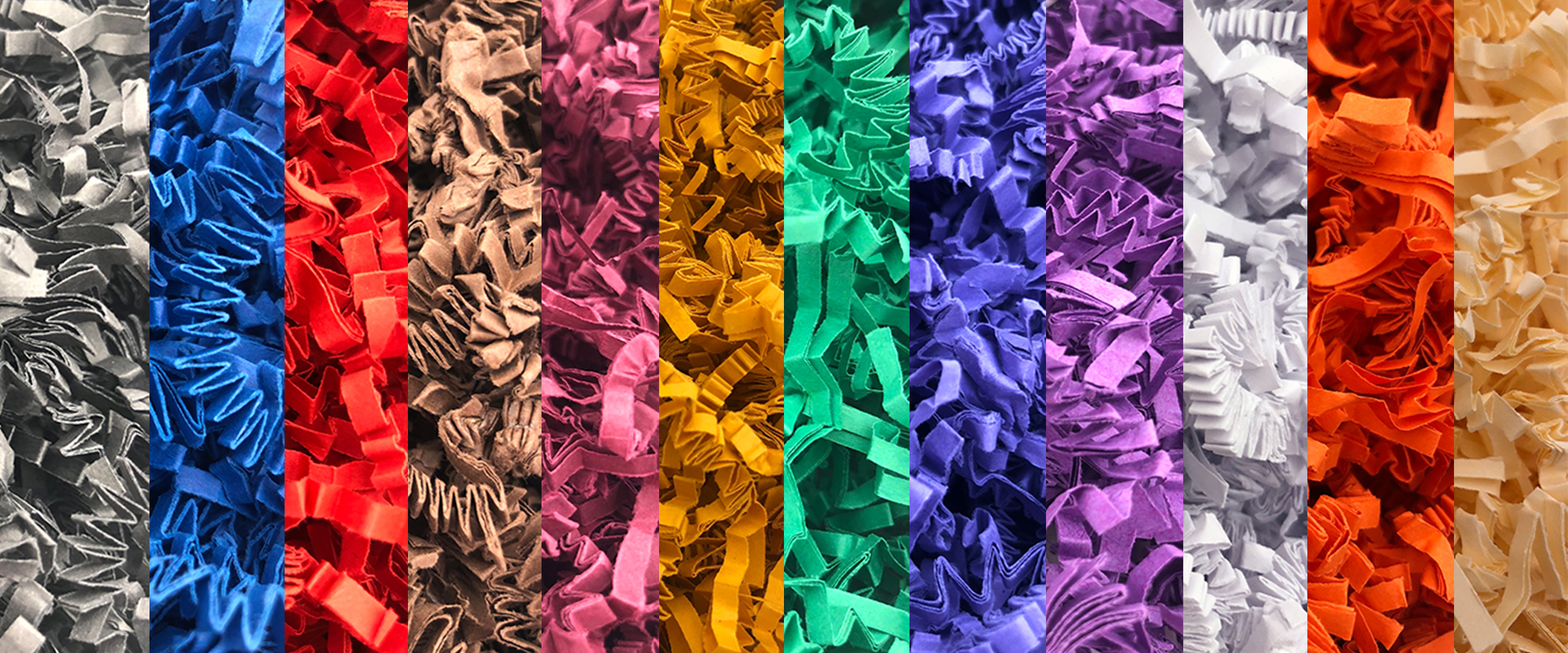 This option is also a solution to the problematic polystyrene cushioning. By opting for cardboard instead of plastic, your customers will see from the moment they open your package that you are environmentally conscious in every detail. It may seem trivial, but in this new decade, which is going to put the emphasis on sustainability, it's the little things that will make the difference. So opt for a product made in Europe, which is not only 100% biodegradable and recyclable, but also made from recycled paper and cardboard. The fact that it is antistatic is the icing on the cake. Who hasn't been annoyed by polystyrene that goes everywhere and that you have to fight to get rid of?
Reed fibre
First of all, it is important to know that reed is a rather tall plant that grows in rather humid areas and the good news is that it grows rather quickly. This material has been used for many years to make a roof, called a "Norman thatched cottage".
Not for nothing has this material over the years been increasingly considered to create options for carrying objects.
Companies at the forefront of eco-friendly packaging
Thea Jewelry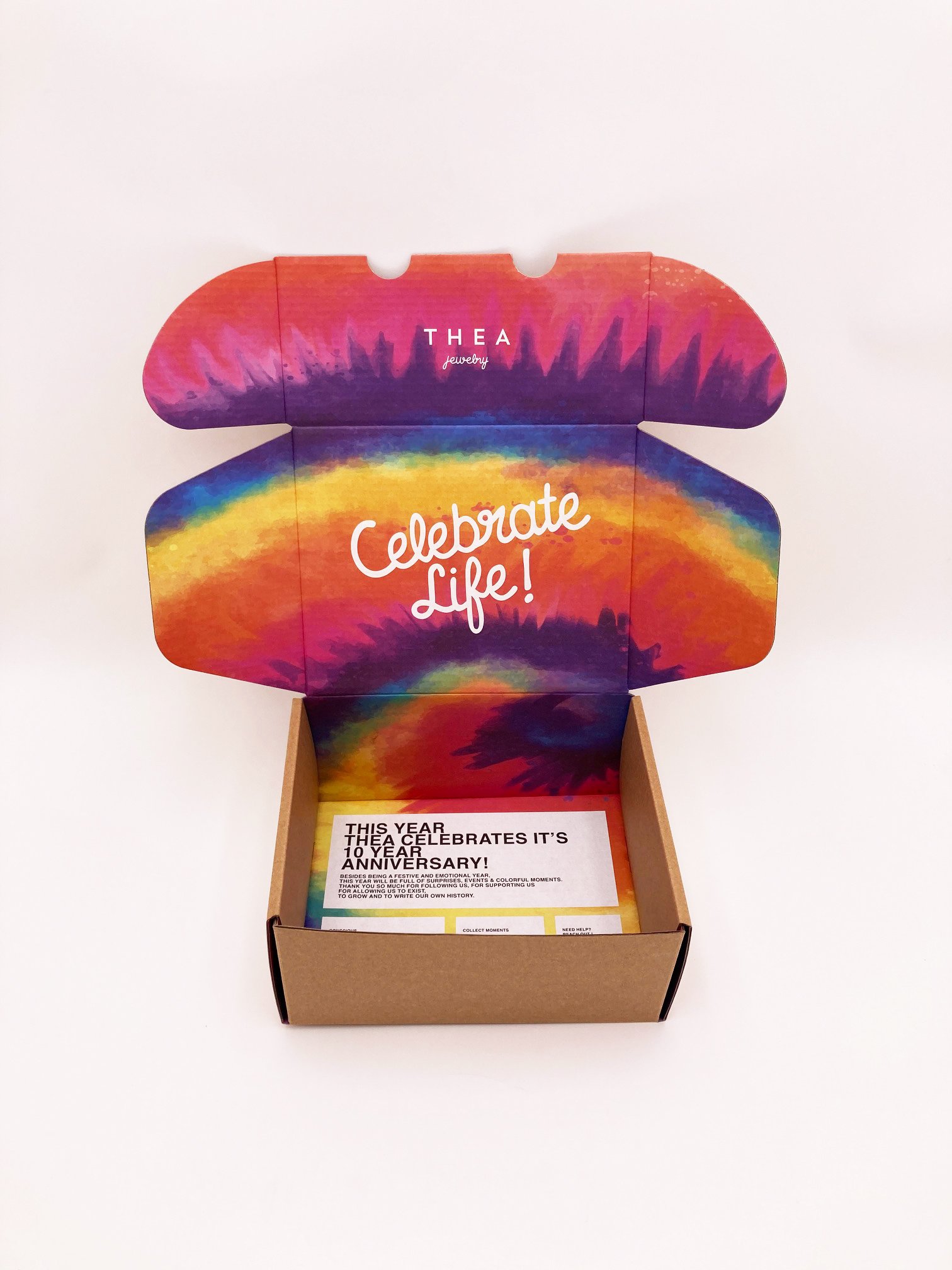 This French company specialises in personalised jewellery. Just like us, their specialization is to personalize products to make customers happy. This online shop integrates the concept of CSR throughout its activities. Whether it is the raw material metals or precious stones, special attention is given to social and environmental issues.
This is why this company is now offering eco-friendly packaging for any purchase on their website. We are proud to work with them to make a positive impact on the planet.
Chocolaterie Genaveh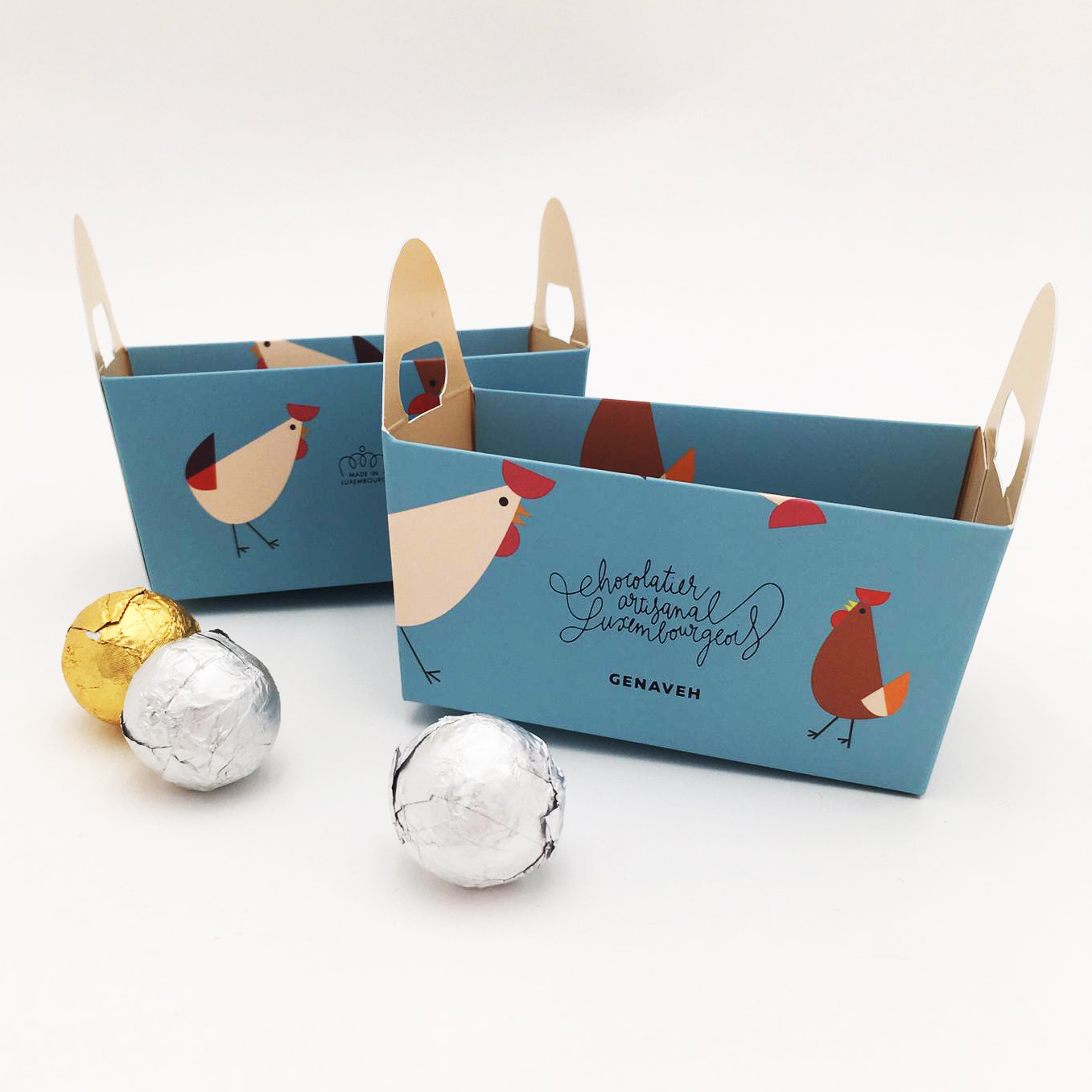 This Luxembourg artisanal chocolate factory takes advantage of its expertise in healthy chocolate to give us the opportunity to develop environmentally responsible packaging using our know-how. This chocolate factory, which has the particularity of being essentially feminine, has been given a new lease of life with the arrival of Alexandra Kahn in 2017. Between elegance and products using a noble material that is chocolate, environmentally friendly food packaging is necessary to have a solid brand identity.
Martine Cosmetics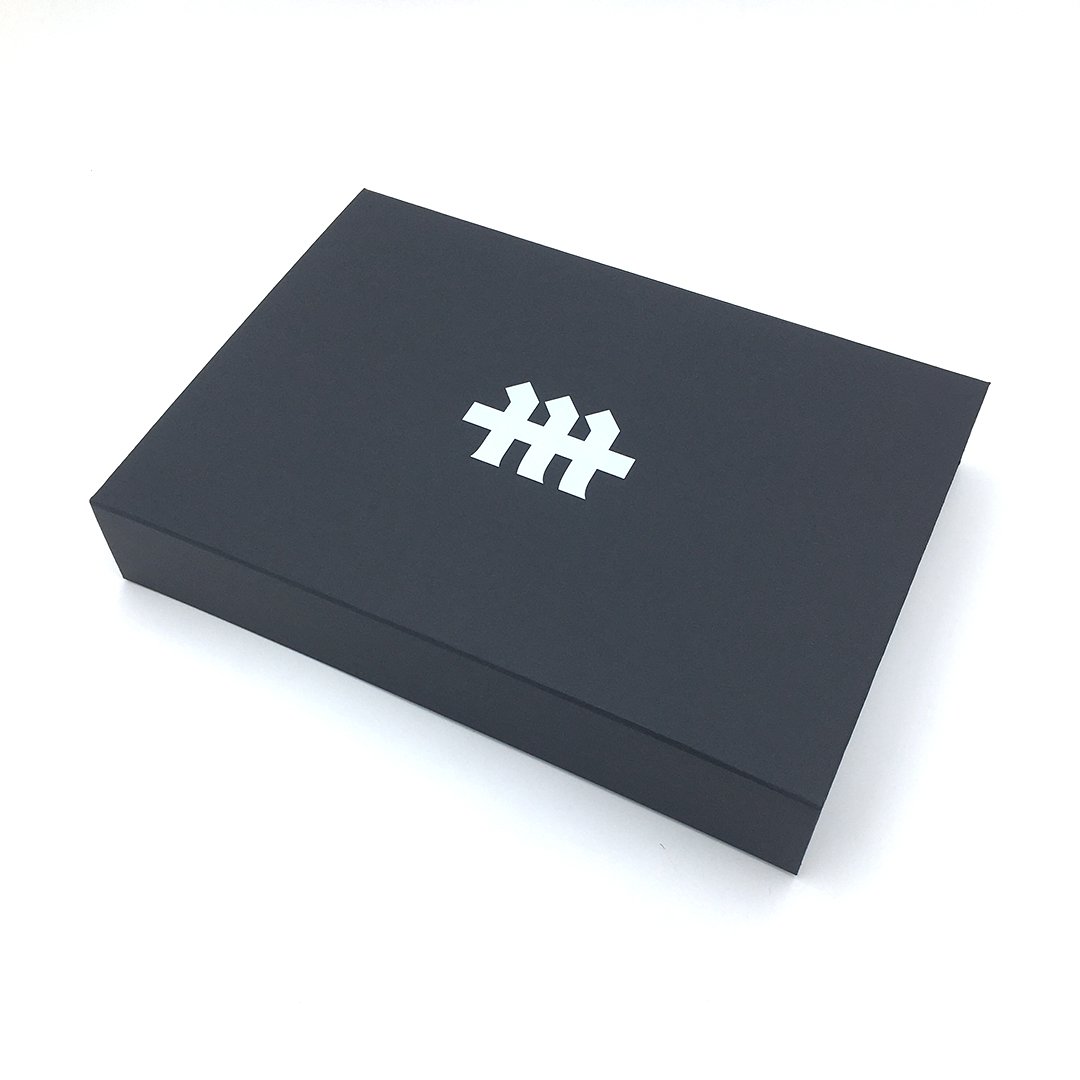 Martine Cosmetics is over the years creating an important place in the cosmetics industry. Indeed, this company founded by Belgian Gaëlle Garcia Diaz has been appreciated by many young people thanks to its colourful and extravagant products since 2018.
By refusing to test the various cosmetic products on animals as is often unfortunately customary in cosmetics, this company affirms its desire to have a positive impact. This is why we help them with their packaging, in particular with the peronalised Wonderbox. This 100% recyclable cardboard box has the unique feature of being delivered flat packed, allowing us to minimise the carbon footprint when we supply them with these premium boxes.
Our advice for your brand
To help you in the eco-friendly packaging environment, we've put together our little list of tips that will come in handy, before, during and after your order.
Why adopt a minimalist design?
Adopting a minimalist design has a consequence that doesn't immediately come to mind, but yet, its benefits are huge for the planet. Having a minimalist design will dramatically decrease the amount of paint used during printing. Reducing the demand for ink means reducing the amount of cartridges needed for large prints. Millions of cartridges, often made of plastic, are thrown away every day.
Let's take an example with the logo of Nike. This can be characterised as a "full" logo, i.e. the whole logo is filled, there is no empty space inside it. Therefore, the print should fill 100% of the logo area.
But imagine if Nike adopted a minimalist logo, replacing the inside with this famous empty space, leaving only a simple outline of the original logo. When printed, we could go from a 100% print area to only 50% print area. This would be very interesting considering the millions of objects that have the Nike logo printed on them. Small details count.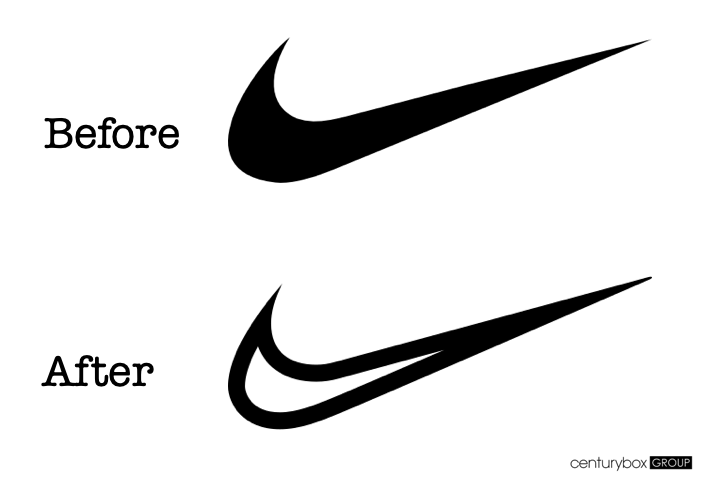 Now think about your visual identity if you are a brand. Is your logo design "ink intensive" in terms of printing? Would you benefit ecologically by simplifying it? Of course, changing your logo often costs a lot, but it is easier to do so before you grow. It is also interesting to talk about logos that are optimised, your customer will think of you directly when they see your logo, which is undoubtedly now differentiated from the competition.
The kerning of your typography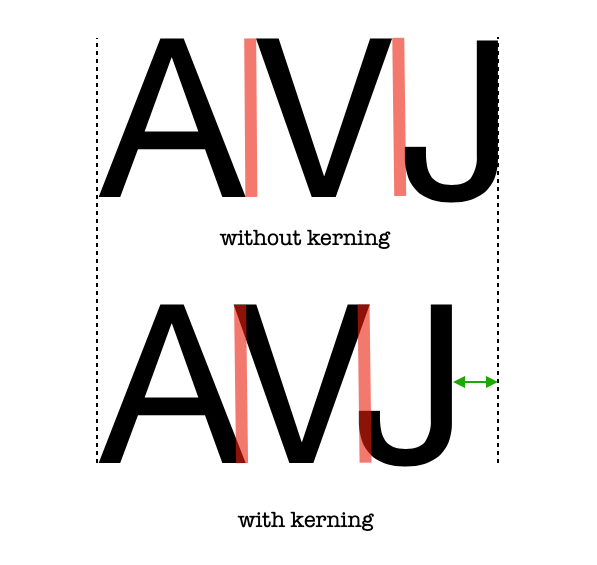 You may not be familiar with this concept, but it is important to consider. Kerning a typeface, without going into detail, is the adjustment of the spacing between letters. A typeface that has good kerning will optimise the white space between two letters. A typographer who uses kerning will therefore use fewer printing sheets than if there were none. The reason is simple: for the same space, you will write more when the kerning is good.
Also, some typefaces use less ink because they are "thinner" than others, so consider "calibri", "times new roman", "garamond" or even "courrier" to use less ink.
Talk about your green values in your marketing campaigns
Why not take advantage of your efforts by communicating them to your customers? Of course, this has to be done in the right way, because if you do it wrong, you could be seen as greenwashing, which will have the opposite effect to the one you want.
However, if your values are naturally reflected in your products and your communication, you will be able to talk about the new actions your company is taking to further integrate sustainable development into your business without too much trouble.
Think in particular about developing partnerships with local NGOs, which are experts in their field. By partnering, you will have a concrete positive impact and the assurance of being aware of the progress of the projects that the NGO undertakes. For our part, we are proud to have entered into a partnership with the Belgian NGO Graine de Vie. Thanks to their trust, we have committed to planting at least 12,000 trees in 4 African countries suffering from deforestation (Madagascar, Benin, Togo and Cameroon).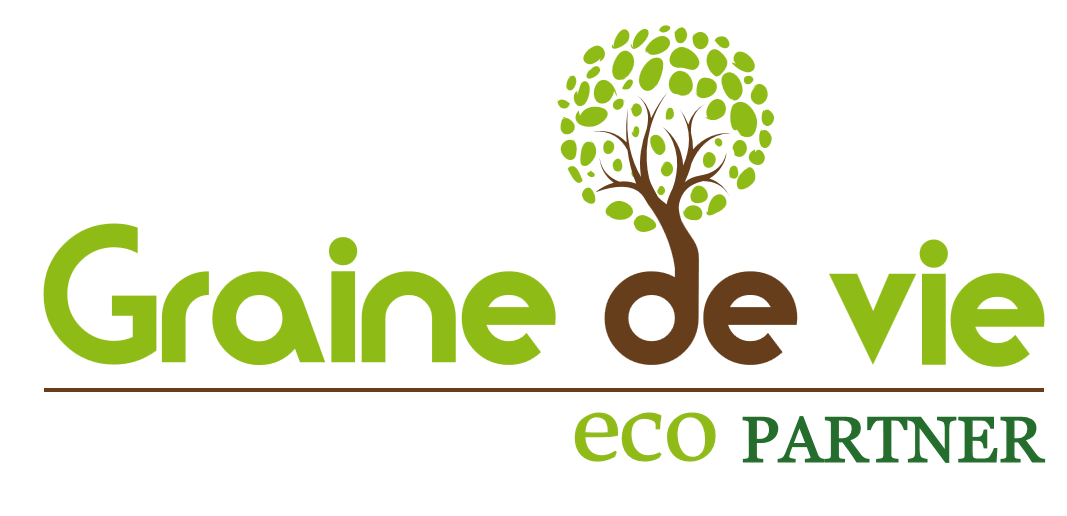 Our advice for your choice of materials
Avoid white paper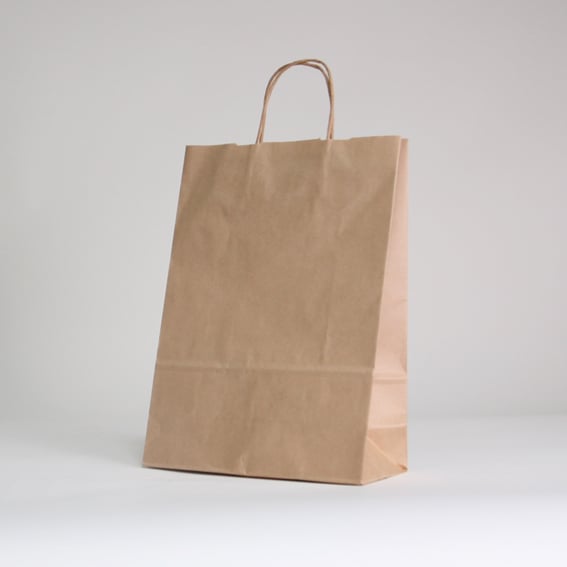 As mentioned earlier, this is a choice that should be avoided if possible, as paper bleaching is simply the most polluting step in the paper making process. This is because chlorine dioxide is the chemical element used in many of today's paper-making processes.
The environmentally friendly default alternative is kraft paper. This type of paper is simply made from recycled paper, unlike other recycled papers, there is no bleaching to remove the inks from the papers being recycled, which is why the end result has a brownish cast.
As well as being able to play with this texture and have beautiful final designs, it is easily identifiable as a recycled (and recyclable) paper, which makes it very quick and easy to show your environmental concerns to your customers.
The different types of printing are possible and look great. Our favourite is the sober mix between the kraft cardboard of our boxes Customisable Postpacks with a screen print. Simple and effective, this elegant box perfectly reflects the visual identity of Belgian heritage.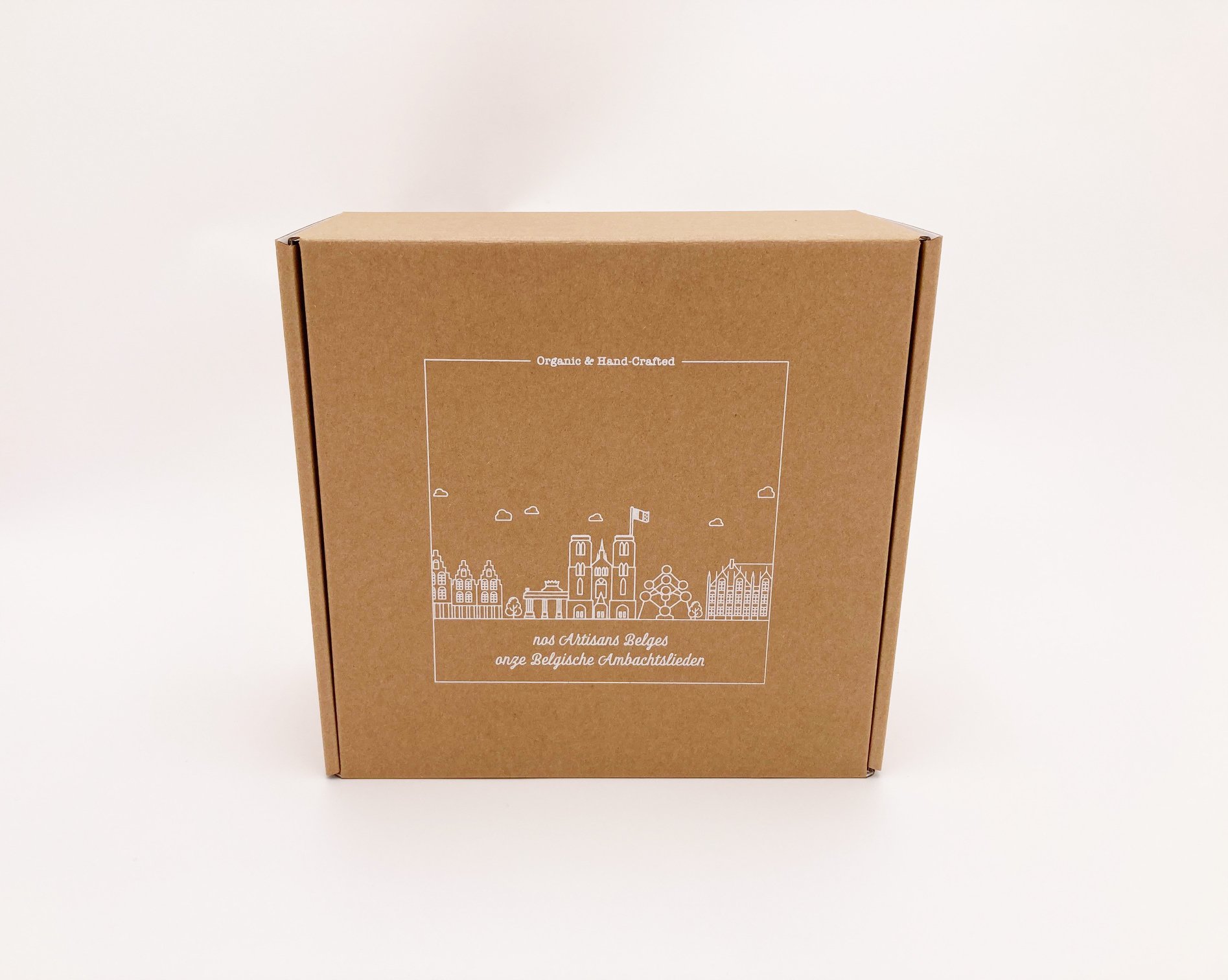 Consider cotton and tissue paper
We have seen the noble and interesting properties that kraft paper can have, but you should know that cotton and tissue paper have the same ecological characteristics as mentioned for kraft paper.
These materials both have the possibility of being recycled and biodegradable. Cotton is perfect for bags and for making great prints. This trendy bag is really appreciated by young people who use it for many occasions.
As for the tissue paper, this very light paper is perfect for protecting your most precious belongings, for protecting your candles in particular. The ability to print your logo on the tissue paper is an element that adds considerable value to your packaging. This little finishing touch shows the dedication and attention to detail that you offer your customers. As well as the aesthetic side, it will protect your goods throughout the transport which can sometimes be a bit hectic.
Our advice for your type of printing
Embossing (printing in relief, without any ink)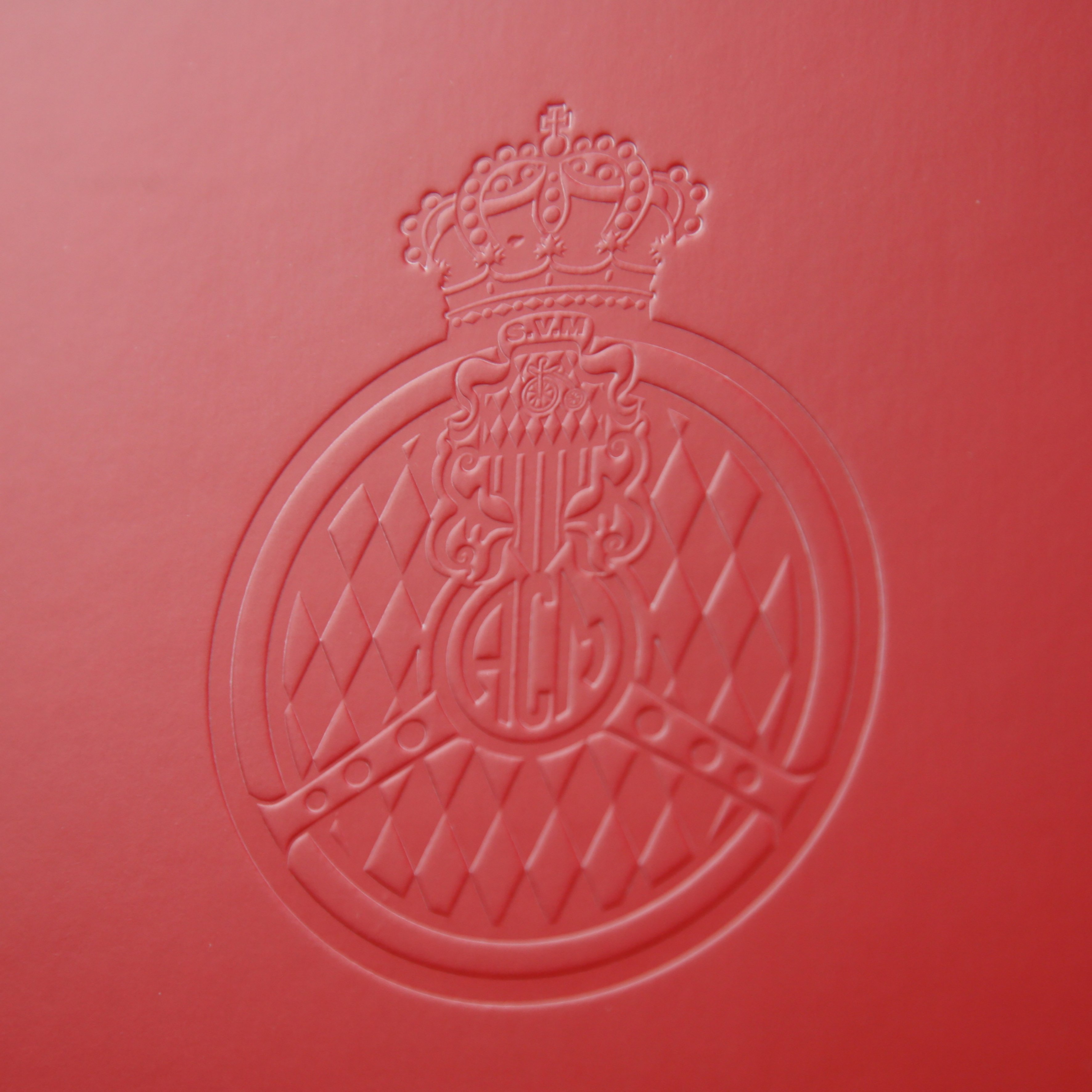 Embossing is a printing technique that allows you to obtain raised patterns on different materials such as paper or thin cardboard. It is in fact the same printing technique as hot printing, working by pressing a "cliché", a magnesium plate, which comes to fix a metallized sheet, giving a shiny aspect which can be golden, silver, pinkish, ...
The only difference with hot stamping is that for embossing, there is no metallized foil inserted between the "cliché" and the paper or cardboard surface to be printed. There is just a pressure that gives relief to the surface.
Two types of relief are possible, debossing and embossing. The difference between these two types of relief is simple.
For debossing, the relief will be on the inside (negative relief), i.e. when touched, it will feel like a slight indentation. For embossing, on the other hand, the relief will be visible, also called positive relief.
On Centuryprint, our webshop for personalised packaging in very small quantities, we offer the first option, i.e. a hollow relief. To do this, simply select hot stamping as the print type and for the print colour, opt for "embossing".
The environmental advantage of this type of printing is simple, it avoids adding metallic material to your packaging, so you will have a 100% uniform and unimaterial packaging if you decide to opt for our box with lid Flowerbox. Still, on the example given here, there is the metallic foil.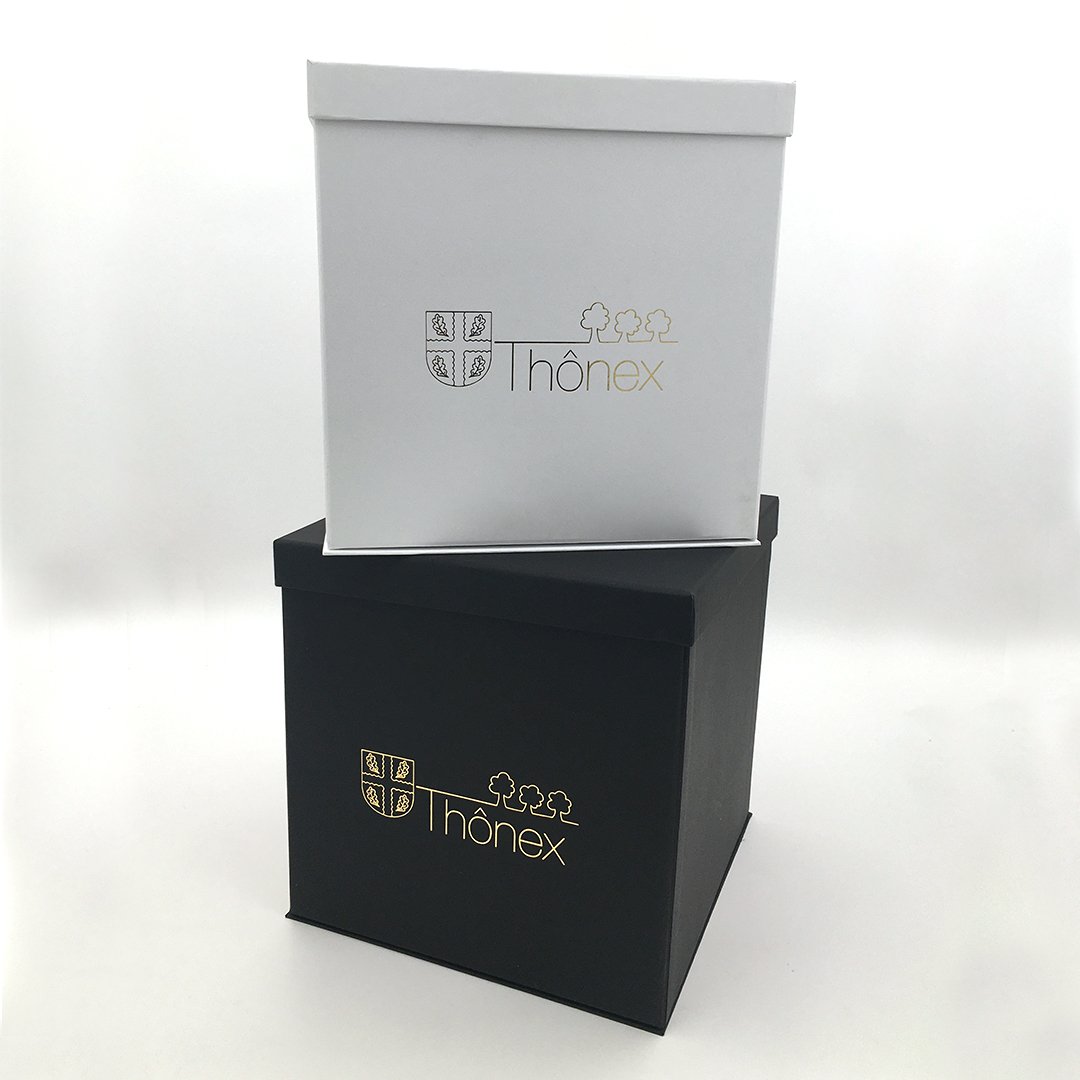 In addition to its ecological side, the result is visually very sober and will directly show your values to your customers, without even having to communicate on it, isn't it beautiful life?
Vegetable ink
Centurybox Group has been offering vegetable-based inks to its customers for over 10 years.
We actually developed the answer to this demand with the Chocolate sector who were looking for an odourless and natural solution for chocolates which tend to be real odour sponges. Our first customer with whom we developed this was the Belgian chocolatier GALLER, from the Liege region.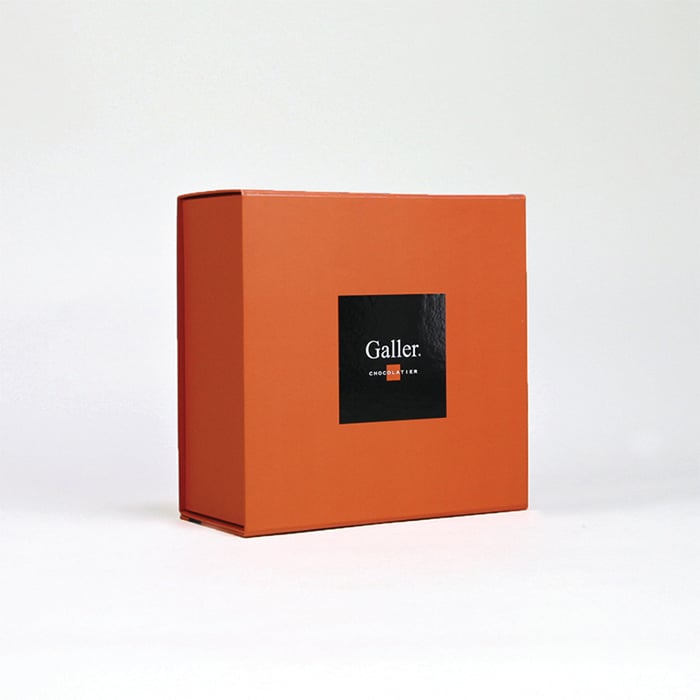 In addition to using a vegetable base, water (and not a solvent base), we can also use natural pigments for colouring, thus guaranteeing a 100% eco-friendly print.
Our tips for your order
Ask for samples
It is important to be sure that what you buy will match what you have in mind. Although we provide all the sizes of our different items accurately, you may want to see them in real life. You will not be able to order a sample with a customisation, however, you will be able to request the generic product directly from our Centuryshop website.
While many sites do not allow free samples, with us you can! We allow up to 3 samples per quarter (in one shipment) completely free of charge, just contact this email address [email protected] specifying your sample request. We will get back to you as soon as possible. If you want more, it is possible to order up to 5 samples by post, but you will be asked to pay 25€. To receive your samples, please contact directly [email protected]
Order in small volumes
Do not order too large quantities. New trends and needs change very quickly. As we have seen with the pandemic, while we thought that our way of doing things was going to be the same throughout time, it turns out that this is not the case at all.
Let's take the example of candle shops, which are considered to be non-essential by many countries, including Belgium. Not being able to receive any more customers in his shop, he had to change his way of giving away the candles. Personalised bags Safari were perfect for the various shops. Today, postal shipments are favoured, so even more attention must be paid to protecting goods for transport. Tissue paper and crimping become essential.
In addition, if you get the wrong size or colour, it will be easier to dispose of these packages if you have bought them in small quantities.
Thanks to Centuryprint, you can have your products personalised from 50 units for most of our items. On Centuryshop, our generic products often start at 25 units and are delivered within 48h-72h!
Look out for our new products
We often offer new products, the latest being the arcobaleno model. The particularity of this model lies in its formats. It is actually the Wonderbox magnetic cardboard box but with 6 new formats that are as practical as they are new. You will find smaller models that fit your needs even better.
So if you've been buying small quantities of the larger models, you'll be able to adopt these new models very quickly.
Take shipping boxes that are compatible with the packaging
It is important to find shipping boxes that are neither too big nor too small for your packaging. We've all received large boxes in the mail when the item inside is quite small. In addition to paying more for larger packages, you are using space to transport air in planes and trucks. If packages were to be optimised, many flights and journeys could be avoided.
That's why we've brought to market a shipping box, called Postpack which is the perfect sizes to carry the items that work best on our site, namely, Wonderbox and Hingbox, which belong to the Flatbox category.
Go bespoke
You can also opt for bespoke. By deciding to do so, you opt to have a package that fully corresponds to your most precise needs. What are the advantages of custom-made packaging? There are many. Firstly, you can fully reflect your visual identity through the materials used, the finishes, the colours, the dimensions, etc.
Published on 2021-04-15 12:25:41