Evolution of packaging trends in 2020 due to Covid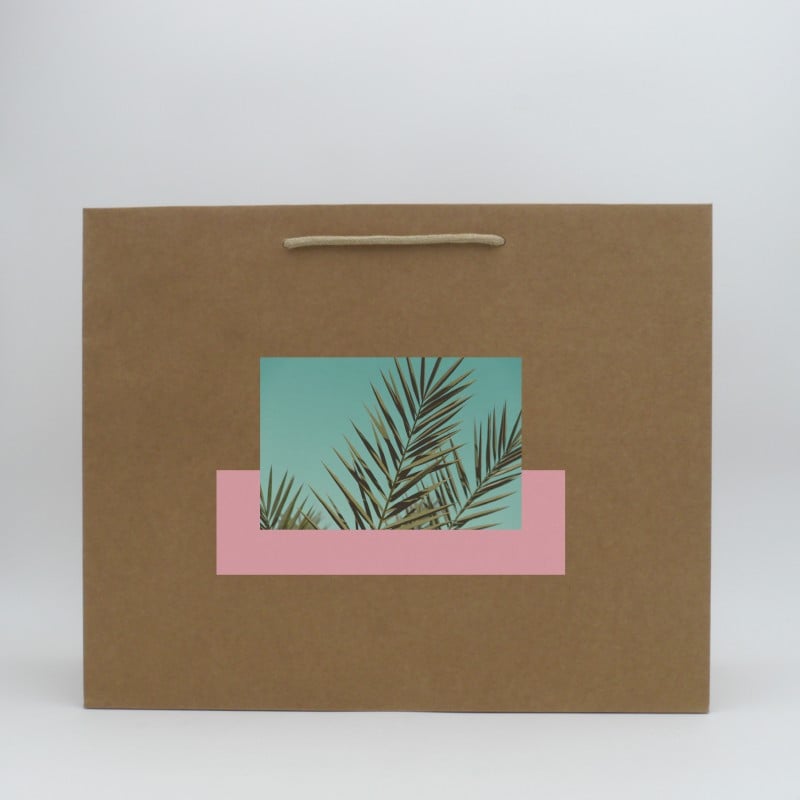 By Max Fromont
General observations
No one could prepare for the unprecedented situation we currently live in. Indeed, it was impossible to imagine this a few months ago. Covid has brought tons of changes in our life, some of which might be permanent. For example, people are reluctant to get physically close with strangers and family members. Hygienic standards have improved overall, we have to wash our hands and put on a facemask. Among the habits that Covid-19 has changed, there has certainly been a way of making purchases. During the lockdown period, even the most traditionalist consumers turned to the digital market, expanding online sales exponentially. This phenomenon is observed effectively in France[1] where we noticed an increase of approximatively 20% in the traffic web shops have observed in the weeks following the lockdown. In some sectors, this increase is more significant, For example pharmacists or grocery web shops noticed an increase of more than 30%. However, the conversion rate and the time spent on the website per visitor have decreased in the weeks after the beginning of the lockdown. This means that it is more difficult to captivate the visitors, you have to focus even more on your Unique selling points in order to be able to sell at the same capacity as before. However, this shows an opportunity that can be exploited if the shop takes the right steps to convert these new visitors. Moreover, rules are constantly changing regarding physical selling points, this gives plenty of reasons for shops to develop their online activity.
E-commerce Evolution during Covid-19
The observation that companies should focus more on online selling is also made by observing the evolution of the number of physical shoppers. Indeed, we notice that in just one-year time, the number of shoppers has decreased by more than 50%. Reaching even numbers over 70% for the UK or Canada[2].  This trend is not ready to stop, even more when we observe the short-term predictions. Furthermore, this observation is confirmed when we look at the sales during the last sales period this summer. French shops have made less sales then in a normal year in their physical shops. We observed a decrease of approximatively 30% in terms of turnover in comparison to last year. One of the factors that could have impacted this might be that the sales period was in August this year, while it is normally during June. However, it is important to note that shoppers are reluctant to return to traditional shopping methods. If we take a look at their online performances, they increased. This means that certain shops have an opportunity to transition to online retail in order to continue their grow.
This opportunity can be observed if we take a look at the evolution of E-commerce in the US during the beginning of the pandemic. First of all we notice that the Revenue of E-commerce grew by more than 68% as of mid-april as mentioned by Forbes[3]. This grow in revenue was accompanied by an impressive increase in the number of orders. This grow was 129% in the U.S. and Canada in April, while it reached more than 146% for all online retail orders. If we observe the world map of the evolution of E-commerce during the pandemic, we,notice that in most of the developed countries the number of sales skyrocketed.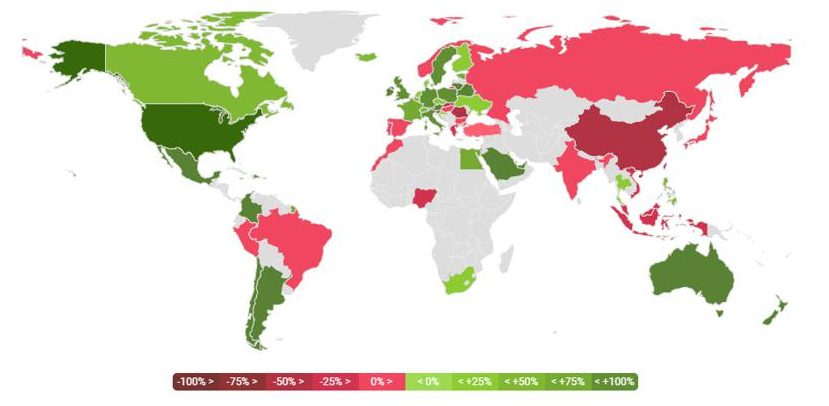 In a further extension, the consumer habits have drastically changed over the last months. These changes may be lasting and It is important for companies to adapt to this new reality. While adapting to this, companies may find it difficult to find reliable partners who will be able to support them during difficult times. However, it is essential for a company to overcome this and adapt themselves. This idea is supported when we observe the future trends of the French consumers. Indeed, almost 9 out of 10 French retail shoppers mention that they will continue shopping online at least at the same pace as during the last months. Furthermore, the part of consumers that do at least the half of their shopping online has increased between 25% and 80%, depending on the region[4].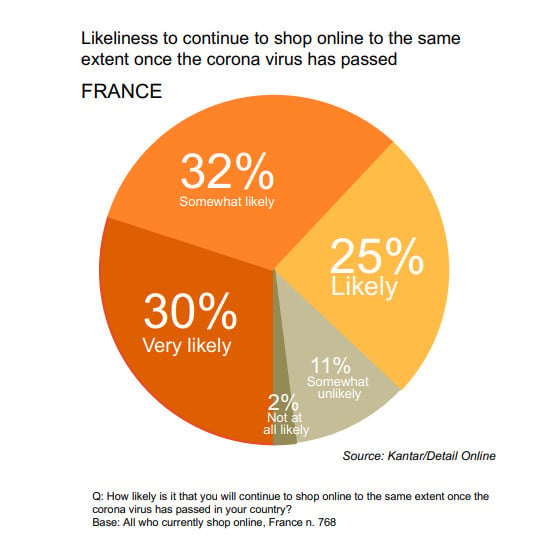 Some sectors have particularly well thriven during the pandemic such as Fashion & luxury in the USA or Fashion & electronics in Germany. We developed products for these sectors in a way that we will be able to follow the increased demand. This pandemic brought some difficult times for most retail stores. If they didn't close, it is probable that they faced a difficult period in terms of revenue. In order to drive revenue they had to face different problems such as disruptions in inventory and supply chain. One of the strengths of Centuryprint is that we didn't close at all during the pandemic. We were fully able to support our partners during this time. It was important for us to stay available in order to help our partners overcome this unprecedent period.
Packaging Megatrends evolution due to Covid
The apparition of Covid has brought some changes to the expectations of the customers regarding packaging. Indeed, currently their expectations concerning several key points such as Sustainability, hygiene concerns or digitalization have appeared or changed. McKinsey & Company[5] published a global study concerning the next normal of packaging after Covid 19 and some key points were put forward. Before Covid, Packaging design already played[6] a critical role in different ways such as:
-       Supporting the consumer decision journey
-       Ensuring that the products it contain have a cost-efficient system
-       Facilitating the consumer's need for convenience
The global pandemic brought changes in the already existing expectations regarding packaging.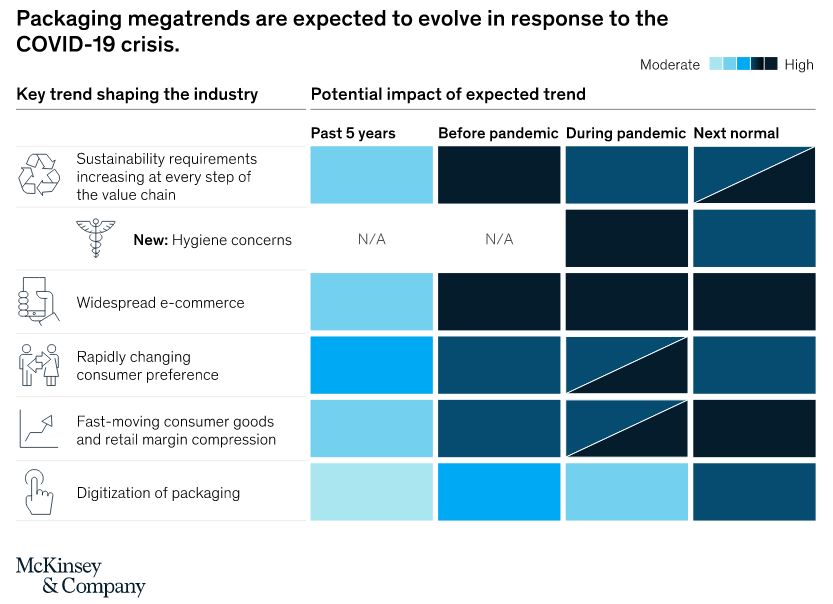 First of all, we notice that there is a new key trend shaping the packaging industry that appeared during the pandemic. As a matter of fact, the Hygienic concerns are only appearing now. This means that for the final consumer, as well as for the people working with the packaging directly, hygienic limitations should exist and be applied. We notice that this priority might decrease in a near future, but during the pandemic this is one of the most important points.
Another Key trend we notice in their study comes from the digitalization of packaging. On one side this means that companies want to be able to efficiently buy packaging online without wasting time. On the other hand, this means that companies and consumers are ready for integration of technology in the packaging itself. The increased digitalization will lead to an increased transparency which is not only a matter of cost efficiency but also a way to improve the supply chain. This point decreased during the pandemic, but as a packaging company we should prepare our self for this.
As observed earlier in this blogpost, the coronavirus is bringing drastic changes in the habits of the final consumers. They spent more on groceries and they were bought online. The expectation is that this spending will remain at the same level as during the crisis. In the US, Online grocery sales will settle at 10% higher than last year. This observation is expected to be similar in other retail sectors, where the online channels will increase over time. E-commerce will become the next normal, Covid has helped to speed up this process. However, the packaging industry will be massively impacted by this, as their products may be shifted. Indeed the customizable Ecommerce packaging we propose has to be optimized for e-channels. In the current situation, packaging for webshops is required to be 3 to 4 times more robust than traditional packaging.
Ultimately, we notice that the importance of the sustainability of the packaging has decreased during the pandemic, however this trend is expected to become like earlier. Indeed, sustainability of packaging will quickly become one of the most important points again once everything gets back to normal.
McKinsey brings three different possibilities for rethinking packaging design in the future to be in line with the expectations. If the design follows these guidelines, it will be in line with future customer expectations and bring a competitive edge to your packaging.
1)    Propose a design with a relevant sustainability narrative
The design of packaging to improve the sustainable message it transmits can be split in 2 major groups. Each of these groups will bring an answer to sustainability in packaging. The first step that can be taken are carried out with only a minimal impact on operating costs and capital expenditures. These can be moves like eliminating unnecessary packaging, helping to communicate ecological thoughts and ideas in a more efficient way, and finally increase the use of recycled content in the packaging material. On the other hand, there are actions that a company can undertake that are more extensive improvements than those in step 1. For example, efforts such as taking advantage of innovations in terms of materials, design new shapes and forms in order to make the process of recycling easier. It is important to study that these changes don't have a negative impact on the long run. We ensure proactively to propose continuously new packaging solutions which ally design and sustainability, as noticed in the <a href=https://centuryprint.eu/en/687-recyclable) sustainable</a> section of our products.
2)    Offer packaging designs which are hygienically effective          
As observed earlier, Hygiene is currently one of the most important trends shaping the packaging industry. It is really important for final consumers to be able to be sure that the packaging they receive with their product is clean and doesn't transmit any disease. Almost 44% of Americans declare they clean their food packaging with a disinfectant[7]. This makes it clear that packaging companies should elevate safety to the same level of importance as sustainability across messaging. Furthermore 95% of Americans state that it is at least somewhat important for companies to communicate about the safety measure they are taking to guarantee customer safety. This new key factor for the packaging industry, given its importance, will have a profound long-term impact on future packaging designs and their functionality.
3)     Design packaging for Ecommerce which is ship-ready and direct-to-consumer models
We made observations which enable us to determine that we need to propose customizable packaging for ecommerce that is practical to use for you and the final consumer. With the continuous increase, and the abrupt acceleration in online sales caused by covid, we had to develop more efficient ecommerce packaging solutions. By developing better ecommerce packaging, we will be able to offer more qualitative products. It is important that this packaging is resistant, easy to use and improves the consumer experience. This last point is determining, because for online shops, packaging is one of the only physical contact points between the company and its final consumer.
Centuryprint's answers to Packaging during Covid pandemic
Century Box is a Belgian packaging company based close to Brussels. We are continuously developing new packaging solutions for our partners. This past pandemic has shifted our customers habits and we clearly noticed an increase in the sales of our range of products dedicated to E-commerce. This sector developed itself really well over the past months and our range of customizable cardboard boxes, kraft paper bags or printed silk paper allowed our partners to make their transition to new selling channels more easily. Indeed, in a first time we have a complete range of products that can be directly used for Ecommerce purposes(https://centuryprint.eu/en/676-packaging-for-e-commerce). In this range of products we find packaging solutions such as the postpack (https://centuryprint.eu/index.php?id_category=194&controller=category). This box can be used to sent different types of products, while using printed silk paper may help to consolidate the product in its packaging to assure a safe shipping. Packaging for shipping products have been developed by Centuryprint. We develop packaging that is easy to use for e-shops but also for the final consumer.
Furthermore we also continuously try to reduce the impact of our packaging on the environment. According to McKinsey's study, consumers will regain interest int the sustainability of their packaging once the Corona Pandemic is over. But at Century Box we already have been producing and designing ecological packaging solutions since a long time. We at Centuryprint, are proud to offer a wide ranger of ecofriendly packaging solutions. We use recycled materials for a lot of our products, such as the (https://centuryprint.eu/en/102-shopping-bag-safari-delivery-in-15-days )safari Kraft paper bag, or the (https://centuryprint.eu/en/78-magnetic-box-wonderbox)magnetic cardboard box, Wonderbox.
The (https://centuryprint.eu/en/85-magnetic-box-hingbox-delivery-in-15-days) Hingbox is also a packaging solution that is made out of recycled materials, that can find its use in the shipping of products in excellent conditions. Customers will be amazed by the quality of the sending box, while they will increase their loyalty with your brand because their desired product arrived in good conditions.
One of the most precious advantages of Centuryprint is that we are able to customize most of our packaging solutions in a very short delay. As a matter of fact, we are able to print most of the different packaging solutions directly in Belgium, giving us the opportunity to deliver the packaging in less than 15 days. This enables your business to quickly adapt to the continuously shifting consumer preferences, both in terms of design and type of packaging. For example, if you notice that your online activity is developing more than expected, we are able to support your activity by delivering the needed customized packaging in a very short delay.
Conclusion
Consumer habits were already steadily going towards online shopping, but the global Pandemic caused by Covid may have accelerated this process. As a matter of fact, a lot of sectors, and Ecommerce in general have increased a lot more than expected over the last few months, shifting the way we used to consume. Shops and companies have to adapt to this changing environment and propose new solutions to continue attracting new clients and binding their long-term clients.
To help companies adapt, Centuryprint offers a wide range of customizable packaging solutions that are in line with the expectations of the final customers, both in terms of sustainability and hygiene. We support companies in their physical shops but also in their Ecommerce activities. With our expertise and continuous R&D we are able to offer great packaging solutions to Ecommerce shops.
---
[1] https://fr.statista.com/statistiques/1110636/taux-trafic-commerce-en-ligne-epidemie-coronavirus-covid-france/#:~:text=La%20statistique%20pr%C3%A9sente%20l'activit%C3%A9,termes%20d'%C3%A9volution%20du%20trafic.&text=Pour%20tous%20les%20secteurs%2C%20le,20%20%25%20le%2029%20mars%202020.
[2] https://www.bbc.com/news/business-51706225
[3] https://www.forbes.com/sites/louiscolumbus/2020/04/28/how-covid-19-is-transforming-e-commerce/#17a156a33544
[4] https://comarketing-news.fr/covid-19-quelle-croissance-pour-le-e-commerce-apres-la-crise/
[5] https://www.mckinsey.com/industries/paper-forest-products-and-packaging/our-insights/shaping-the-next-normal-of-packaging-beyond-covid-19
[6] https://www.mckinsey.com/industries/paper-forest-products-and-packaging/our-insights/beyond-covid-19-the-next-normal-for-packaging-design
[7] https://www.packagingdigest.com/food-safety/covid-19-raises-consumers-packaged-food-concerns
Published on 2020-06-11 16:02:35