Shoe packaging, a know-how of Centurybox Group
The Centurybox Group company which is a major player in luxury packaging has developed during its thirty years of activity a significant amount of packaging that corresponds to all the needs of high-end shoe sellers. Packaging has a crucial role to play in differentiating a product from the competition. A presentation that goes beyond the norm is one of the keys to success for luxury boutiques. Let's take the example of influencers who make videos showing the purchases they have made. During these videos, it is important to have a rendering, a visual that is more beautiful than the packaging of other brands. The reason is simple: with the audience that these influencers have, making a success of your packaging with a colorful, visually appealing package will allow you to make a free advertisement to hundreds of thousands of people. This promotion of your brand is even more feasible if you stand out with a sublime packaging. You are thus making an ad that can be considered passive, as without any investment in advertising, but with only a small upfront investment in packaging.
We are happy to help you with this mission thanks to our wide range of products that have been developed over the years to meet your needs for high-end shoe packaging.
In this article, we will start by introducing the company as well as its offerings. We will then take the time to present two projects that were entirely custom made for two French brands: Goya and Cosmoparis.
Who are we?
We are a Belgian company composed of about 15 employees. Our offices are located right in the center of Belgium, in Villers-la-Ville to be more precise, 5 minutes away from Villers Abbey. This geographical location is interesting for us, as well as for all our customers, because it allows us to respond very quickly to any order thanks to the largest European stock of high-end packaging that we have in Villers-la-Ville. Therefore, as soon as we receive a request for personalization, we have all our stock present next to the printing workshops, allowing us to print your packaging directly, without having to wait for the goods to arrive from the production sites.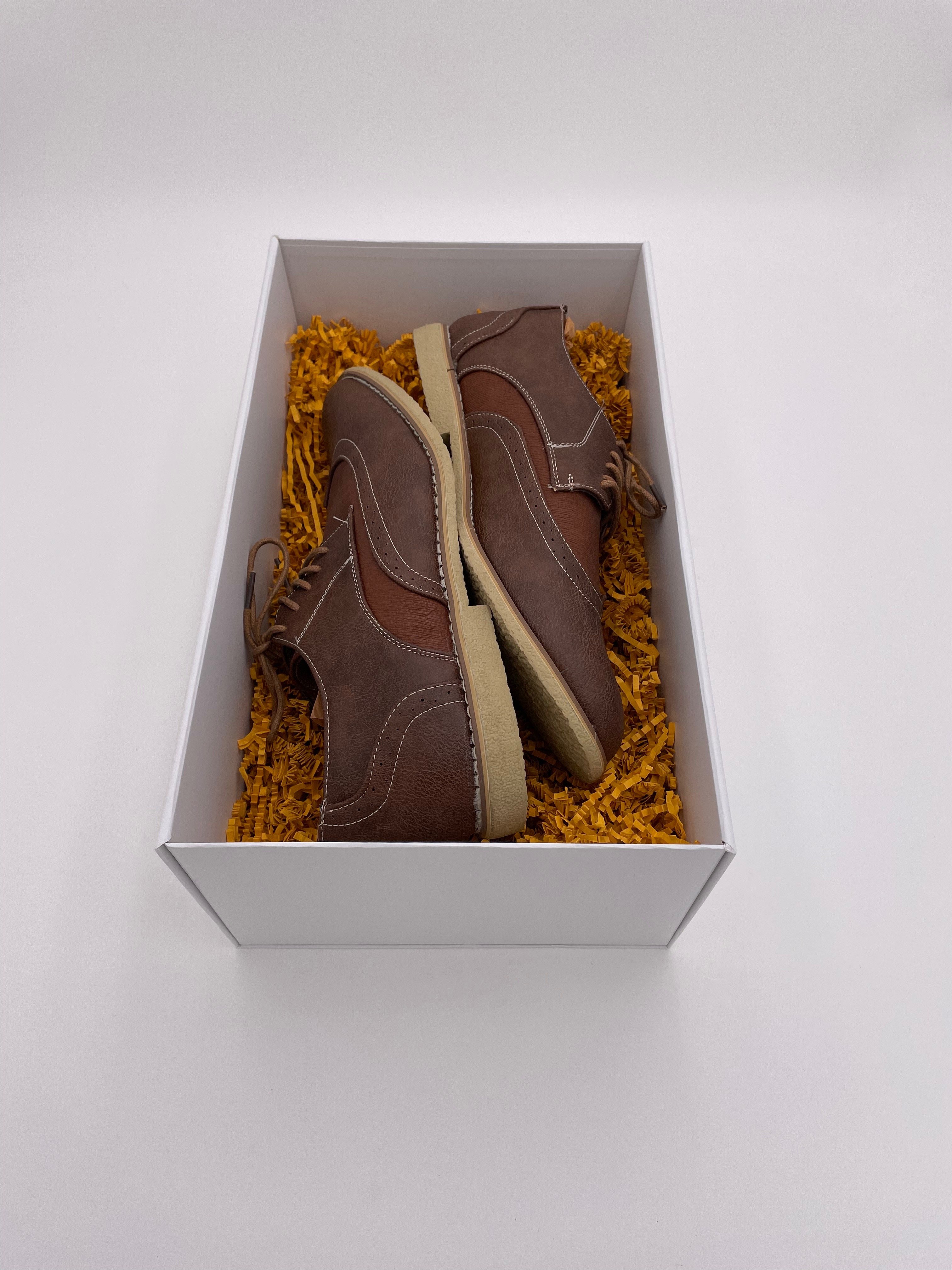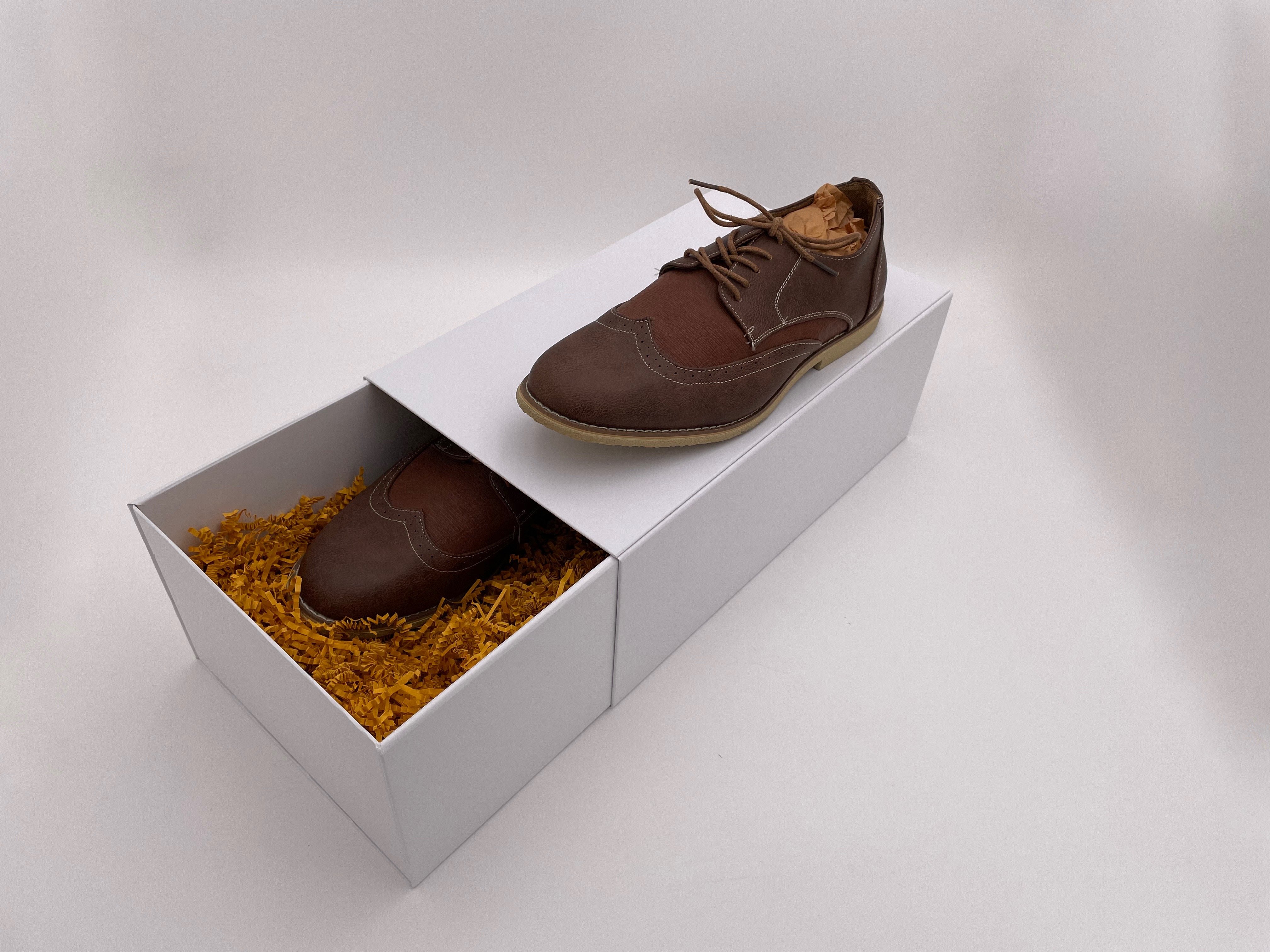 What do we offer?
Several years ago we created a qualitative box that has been a big hit with all shoe stores wanting to have a packaging that is different from standard shoe boxes. This is the Smartflat , a drawer box, making the opening experience unique. This bulky box was designed to hold a standard size pair of shoes. It is available without customization on Centuryshop but imposing your logo on it will make this box unique and fully branded to your store. Here is an example of a Smartflat box without personalization in white color sold on Centuryshop.
You'll notice crimp in the bottom of the box, this is 100% recycled and recyclable cardboard cushioning that has the incredible advantage of being anti-static. This means that it will not stick to your items due to static electricity. We offer the Sizzelpack in more than 24 colors on our Centuryshop website! In these pictures it is the color cognac. This soft color makes the leather of the shoes stand out in a classy way.
On Centuryprint, the site you are on, this box which has as size 37*21*14 cm is offered to you in 3 different types of printing: hot printing with its negative relief and glossy finish, screen printing with its luxurious rendering and digital printing which allows you to print all the colors you want.
This is also the case for the Wonderbox magnetic flap box with size 22*33*10. It is highly appreciated by shoe stores who choose it for its ideal size for a classic pair of shoes. Find it both in generic and custom on Centuryshop and Centuryprint.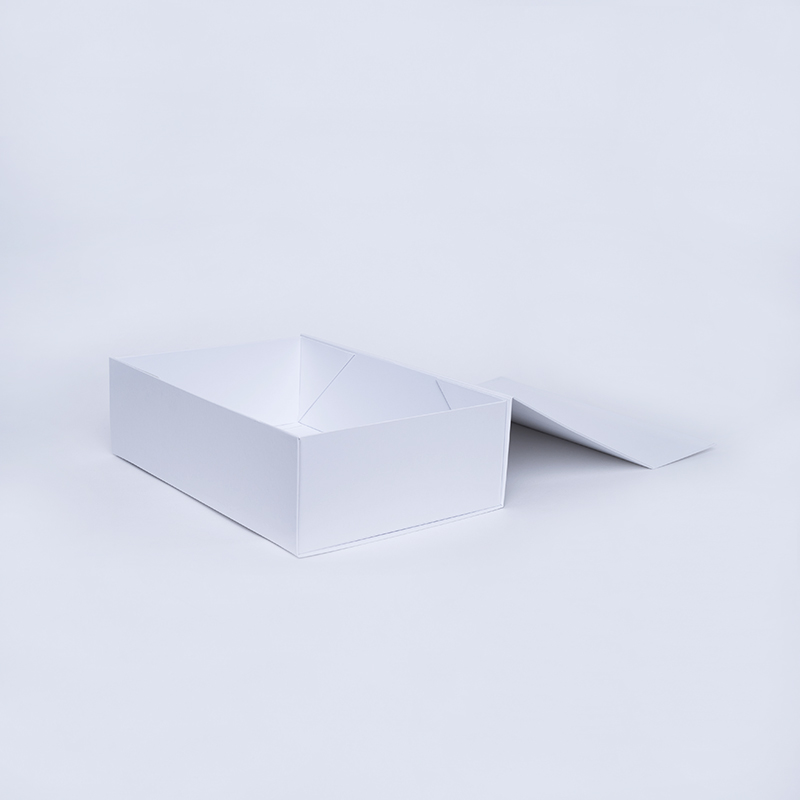 Customized projects
Goya
For several years, we have been working with the stylish shoe stores Goya. Their trendy shoes that are often decorated with a touch of gold need a packaging to match. That's why we designed a custom-made high-end Smartflat for them. The choice of this box was a natural one. With its finesse and its beautiful movement when opened, it does not leave indifferent the customers who have the chance to handle this beautiful packaging. Composed of 2 parts, it is delivered flat, eliminating any storage problems in their stores.
As you can see in the following photos, the drawer is easily assembled in a handful of seconds.
Once the drawer is assembled, you just need to insert it into the box. The result is bluffing, as well as its resistance which allows to protect without any problem the beautiful shoes marketed by Goya.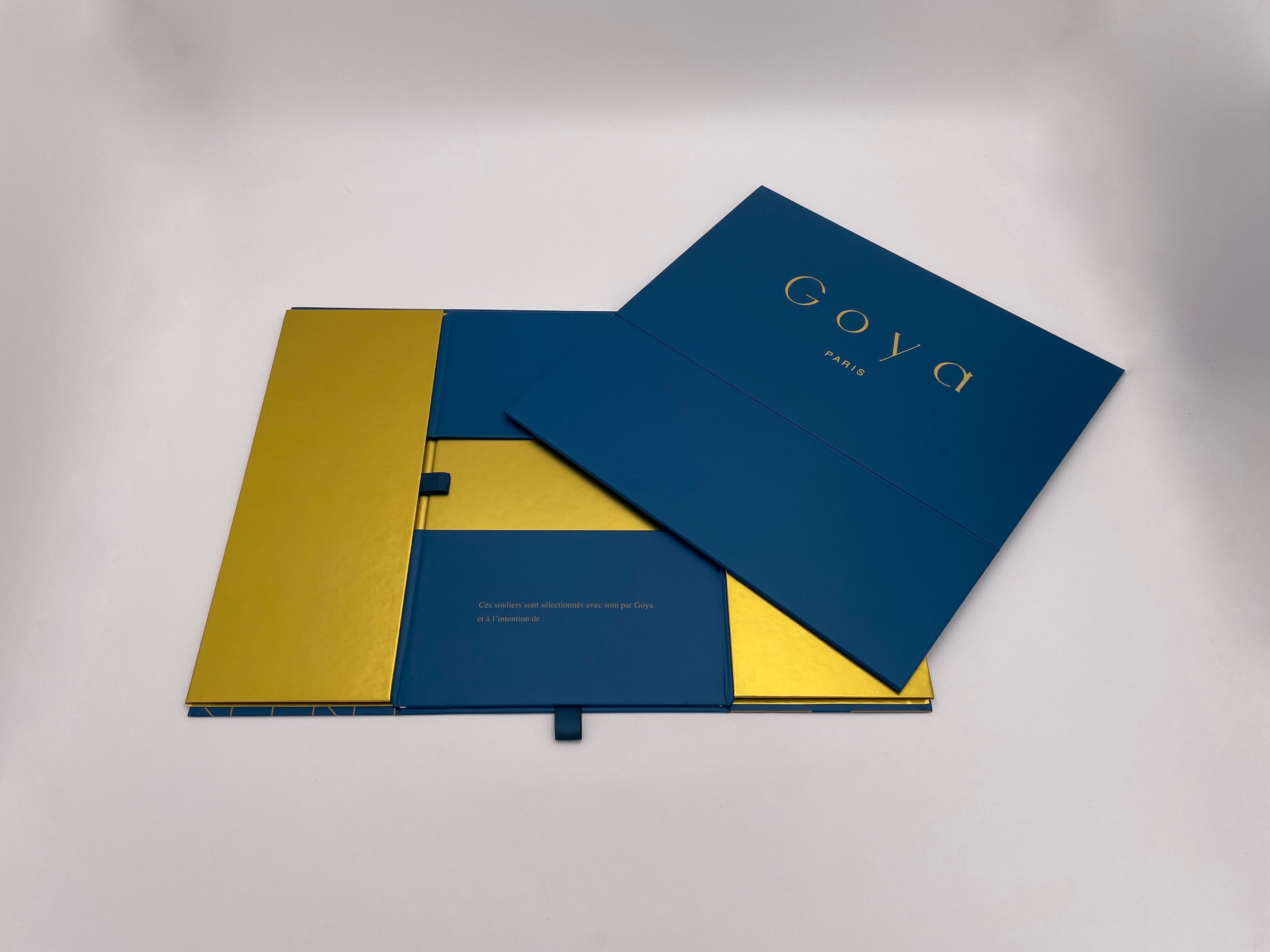 Cosmoparis
For this Parisian outlet, we created different bags that aim to carry the big shoe boxes. These durable and stylish bags were created in different sizes and colors. As you can see in the photos above, two bags of intermediate sizes have exactly the same dimensions but are quite different in color.
In fact, one of the bags is much flashier than the other. Its pink color gives a festive side to this high-end bag while the black one plays more on sobriety. Each bag is of course reinforced with cardboard at the bottom to give it maximum strength.
We also created a much larger bag for them, allowing for either 2 shoeboxes or a larger shoebox, such as a box for women's boots.
We are thrilled that we were able to meet Cosmoparis's requirements to make a bag that met their expectations exactly.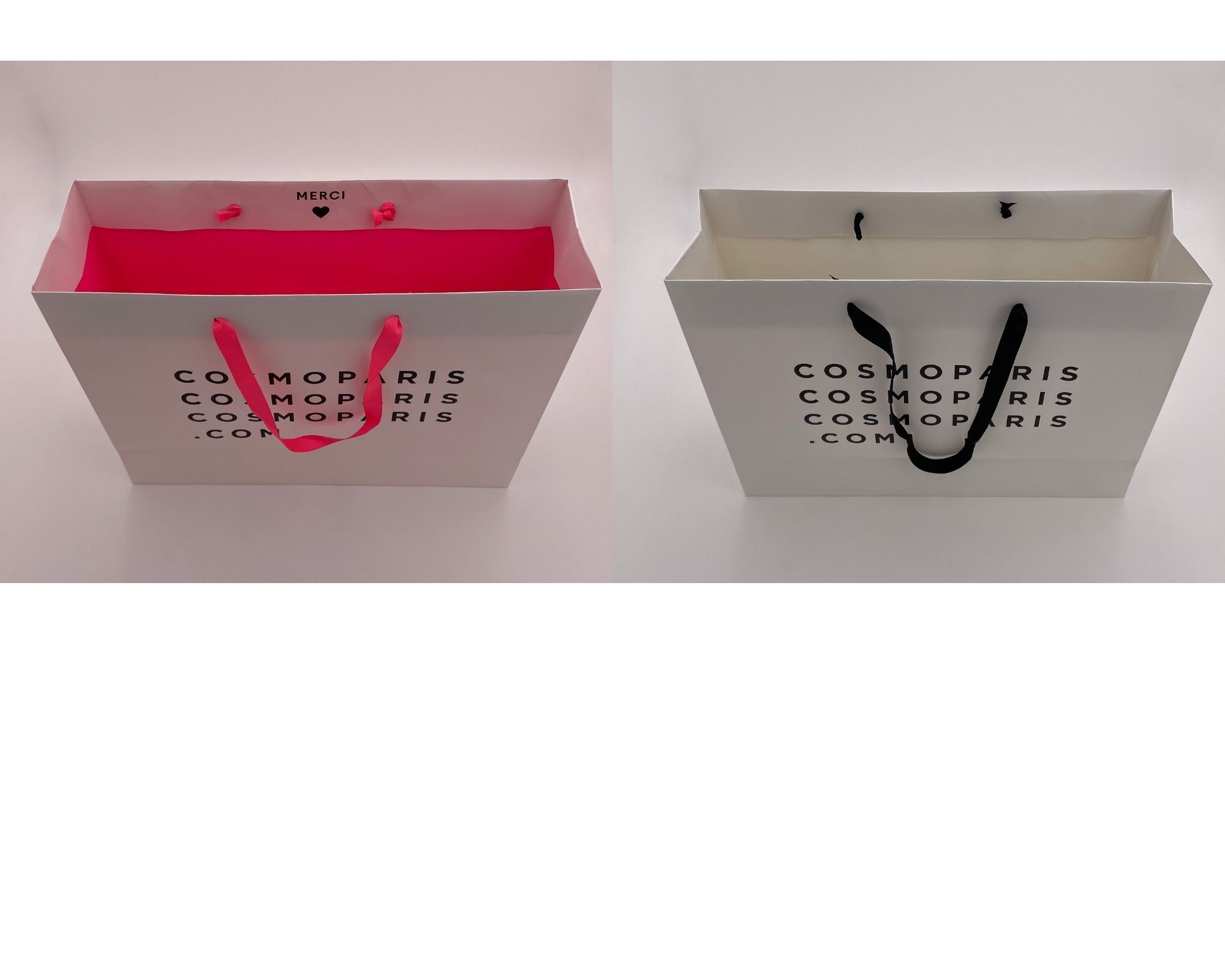 And you?
If you also want to spoil your customers with a qualitative packaging that will not leave them indifferent, you can place an order on our website Centuryshop for any generic high-end packaging, Centuryprint for any customized product or contact us by email at info@centurybox.be for any 100% custom project as shown with the two examples. If you have a question, please feel free to contact us by phone at +32 71 87 49 13.