Centurybox Group, the company and its websites
As a major player in luxury packaging, it is our duty to help all florists protect their creations with qualitative custom flower packaging. Our wide range of products has been developed over the years to meet the most precise needs. Centurybox Group is indeed a Belgian company that has been in the high-end packaging industry for over 30 years. Our offices are located in Villers-la-Ville, 5 minutes drive from the famous Villers Abbey, an ancient monastery now in ruins that can be visited. Moreover, we have the largest European stock of high-end packaging in the same place as our offices and customization workshops, allowing us to respond very quickly to all your orders within a maximum of 15 days.
Centurybox Group has created several websites specialized in high-end packaging. The first is Centuryshop, a site that exclusively sells generic high-end qualitative packaging. The second one is Centuryprint, the site you are currently on. On this one, we offer a variety of different customizations. On kraft paper bags, on boxes, on tissue paper, ... we personalize all your products with different types of printing. Finally, we have the Centurybox website, on which it is possible to carry out fully personalized and customized projects. Whether it is the material, the color, the type of printing, the dimensions or any other request, we realize your craziest projects from 1000 units! In this article, we will show you our different products and our different offers available on our different sites. Three beautiful projects that we have done for companies specializing in flower sales will be highlighted.
On Centuryprint, our flagship products for flowers are undoubtedly the Flowerbox and the Cubox . Both of these sublime luxury boxes have the same main characteristic: they are cubic. However, they have many differences that make each of these boxes unique.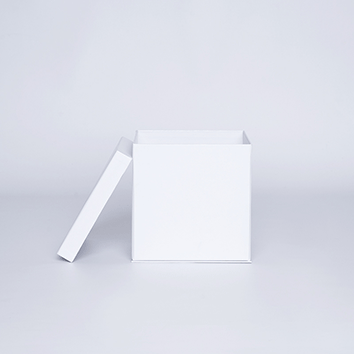 Let's first introduce the Flowerbox. This box is a box is what we call a bell box. This name comes from the lid, which is placed on the box, closing it like a bell. This luxury box is available in two standard sizes for floral creations. The first one, the 18*18*18 cm is perfect for small creations while the 25*25*25 cm will allow you to contain larger volumes, and thus your most beautiful creations. This box is delivered to you flat, removing any storage problems.
The ingenious mounting system has been studied to make it easy for you to assemble this incredible box in just a few seconds. The customization of this box will allow your sweet store to play it sober and make a statement with such a beautiful creation.
The second box designed for floral art creations is the Cubox. This magnetic box has one major difference from the Flowerbox. This difference is in the lid, which does not actually exist on this box, but rather a magnetic flap that comes to completely close the box when folded down. The fact that there is no lid turns this box into a unique box, made of only one piece. It also comes flat and shows off all your work once the magnetic flap is lifted. This beautiful box, which comes in two sizes and two colors, is as practical as it is elegant. It will delight all of your customers with its simplicity and unwavering class.
These two gorgeous boxes can be found on our Centuryshop and Centuryprint sites. Use the latter to customize these beautiful boxes, starting at 50 units!
We have also worked with some companies who wanted a 100% custom project. We've happily responded to these requests and here are three cool projects we've done over the past few years.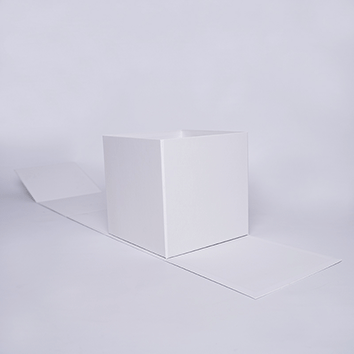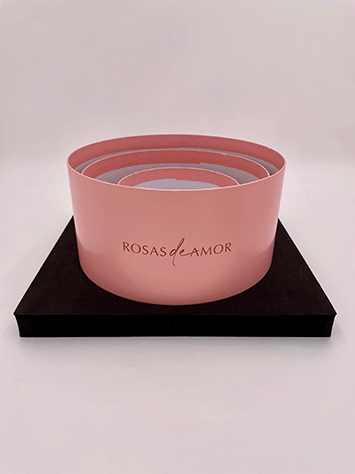 These refined and resistant boxes were made to the ideal dimensions of the bouquets made by this company. The external box entirely personalized and made to measure that we realized is, it, in a softer cardboard. It allows to highlight the internal box with its simplicity and sobriety.
The last box we made for them is the shipping box. Strong, practical and personalized, it has the perfect dimensions to contain both boxes in a compact way, minimizing impacts and movements inside it.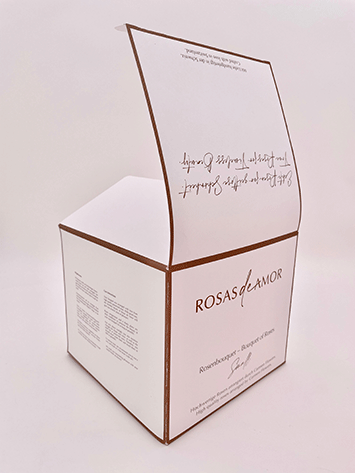 Custom projects
Rosas de Amor
We are proud to have collaborated with the Spanish company Rosas de Amor who sells high-end rose bouquets. We created all of their packaging, from the box that comes in direct contact with the roses to the protective box and the shipping box. The box that holds the roses was developed in different sizes and two colors that perfectly match the colors of the roses: a beautiful blue and a soft pink.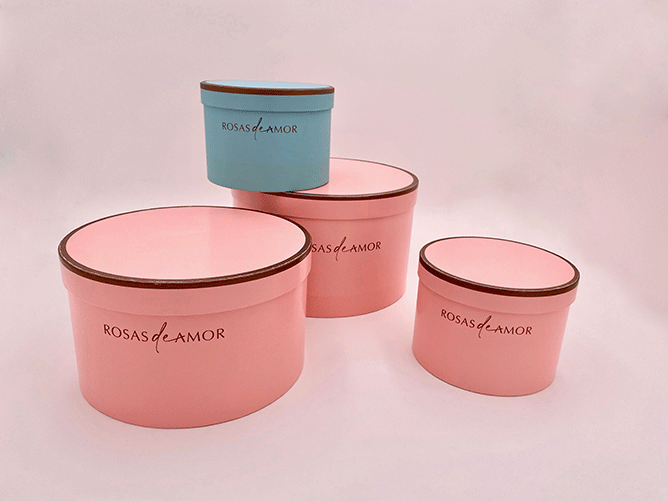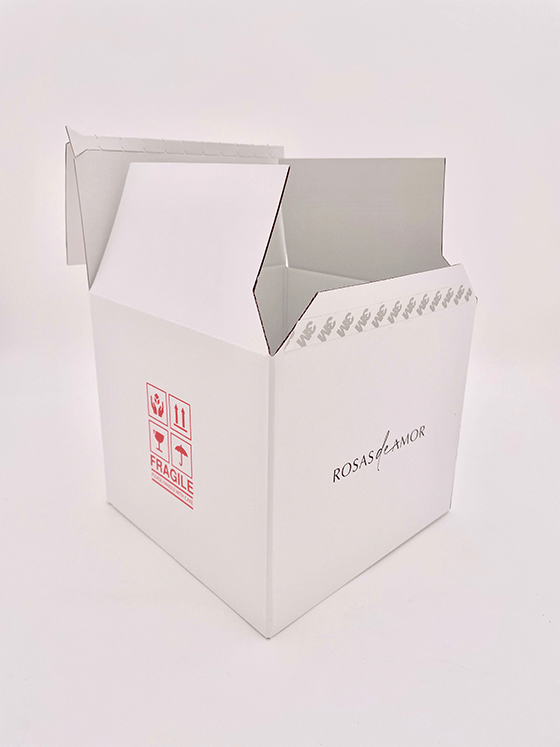 Atelier 19
Another client we are happy to work with is the French company Atelier 19. This company specializes in natural and fragrant dried flowers and everlasting roses. Floral design requires a lot of upstream work on packaging in order to make all creations luxurious. That's why we take care of the production of their packaging. You can see here 3 different formats. The pink box, the smallest, is used to contain a single rose.
The printing technique used is hot printing, which is to come and put a pressure of a golden foil with a magnesium plate on the cardboard. Find below a great shot of the printing on this textured cardboard material.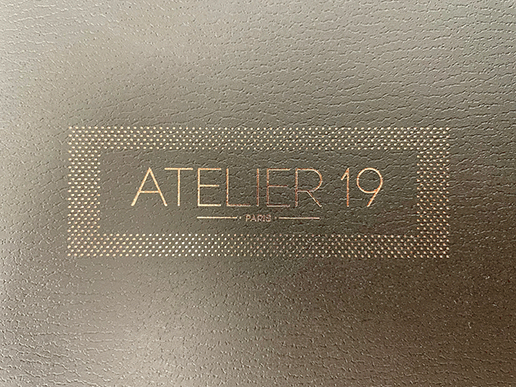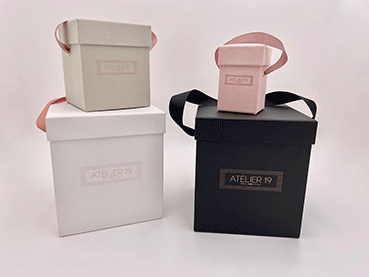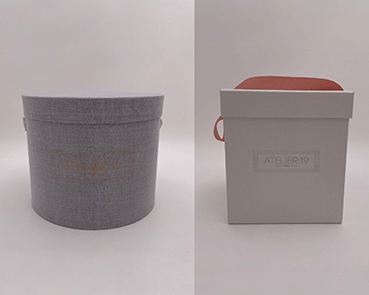 Constantin Huart
A third client specializing in flowers and flower boxes is none other than Belgian Constantin Huart. This one has developed a brand that creates beautiful floral creations and high-end flower boxes. We designed a voluminous box for them that protects and showcases the creations.
Thanks to the side ribbons, this two-piece box can easily close with sobriety.
The cardboard material is also covered with a splendid finish that gives it a glittery look, shining brightly when you look closely.
As you can see, Centurybox has developed an expertise in the field of packaging after more than thirty years in it. We pride ourselves on being able to meet all of your requirements and would be happy to assist you with any generic, custom and bespoke product requests. One phone number: +32 71 87 49 13