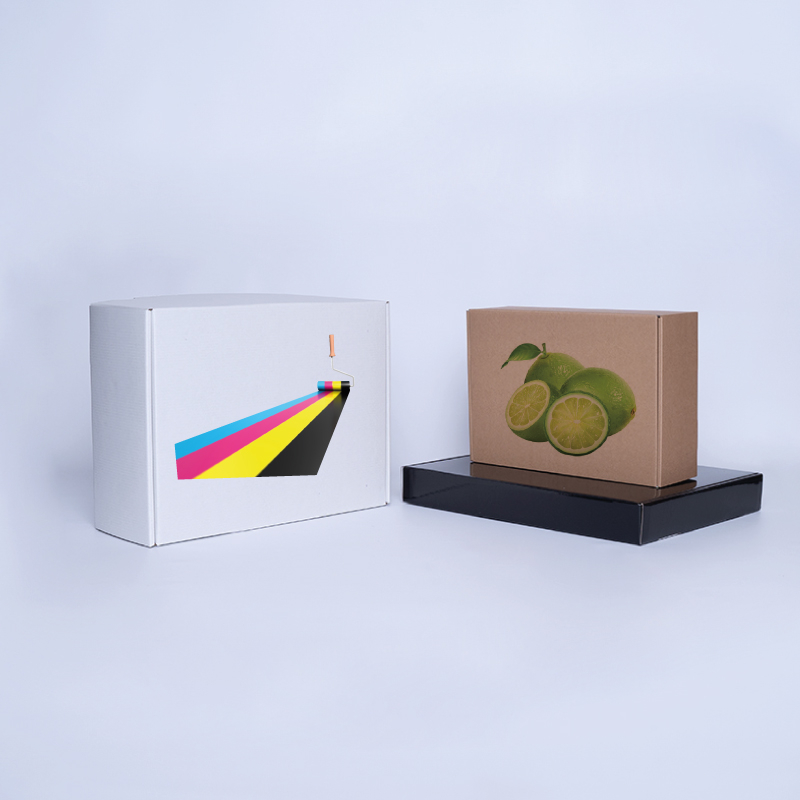  
Note: the color calibration may be different depending on your device (computers or smartphone). Product descriptions regarding colors, materials and finishes are established by contractual rules. A tolerance is applied for visual representations.
Choose your customization mode :
Offline customization (if you are a professional graphic designer)
Recommended only for graphic design professionals and users of software such as Adobe Illustrator or Inkscape. Download the template, create the graphic and upload your design using our module.

Online customization (easy solution for everyone)
We created a software that allows you to customize your packaging quickly and easily. An innovative and safe web solution conceived to design your packaging directly from your computer, even if you are not a professional graphic designer. Take control!
34x24x10,5 CM | POSTPACK | DIGITAL PRINTING ON FIXED AREA

Extremely strong 700 g/sqm corrugated cardboard, it is optimal for online shipments. The 100% recyclable and biodegradable cardboard is covered with white kraft paper on one side and brown kraft paper on the other side (fully reversible, you can choose the outside color). Moreover, the box can be easily and quickly assembled without glue. Flat packed. Regarding the print size, it is a fixed default area on one side (the top of the box).
The format is convenient for holding the Wonderbox magnetic box (22x33x10 cm).
The dimensions refer to the internal sizes of the box. There may be a tolerance of +/- 0,5 cm.
1° I choose my combinations options :
Extra resistant corrugated cardboard of 700gsm (suitable for fragile shipments from your onlineshop)Covered with white kraft paper outside, brown paper inside or brown outside and white insidePrint size: fixed default area on one side (the top of the box)Flat packedThe box is easily assembled and fixed without glue100% recyclable and biodegradable cardboard.
Data sheet
Weight

16.5

Ecotaxe

0.023