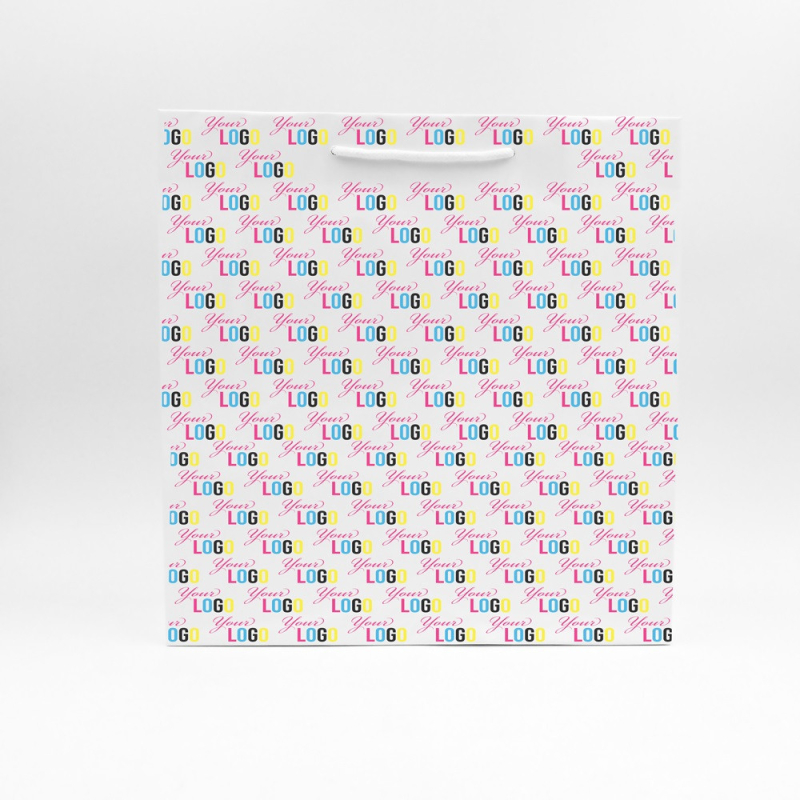  
Note: the color calibration may be different depending on your device (computers or smartphone). Product descriptions regarding colors, materials and finishes are established by contractual rules. A tolerance is applied for visual representations.
Choose your customization mode :
Offline customization (if you are a professional graphic designer)
Recommended only for graphic design professionals and users of software such as Adobe Illustrator or Inkscape. Download the template, create the graphic and upload your design using our module.

Online customization (easy solution for everyone)
We created a software that allows you to customize your packaging quickly and easily. An innovative and safe web solution conceived to design your packaging directly from your computer, even if you are not a professional graphic designer. Take control!
36x12x37 CM | NOBLESSE PAPER BAG | OFFSET PRINTING ALL OVER
Original, trendy and up-to-date, the bag adds value to your products. It is made of white coated paper of 185 g/sqm (mat or glossy lamination). Bottom and top edges reinforced with glued cardboard (400 g/sqm). It can carry all types of products safely. The knotted handles made of 6 mm * 50 cm cotton ropes match the color of the paper and bring a fresh touch to the bag. Your brand image is boosted. Entirely made of paper and cotton handles, the bag is 100% biodegradable and recyclable. No plastic.
Digital printing is made on the whole bag (sides and gussets included), offset result (high definition : image and logo).
1° I choose my combinations options :
White coated paper of 185gsm with glossy or mat lamination.Cotton rope handles (6 mm wide and 50 cm long), 4 knots.Model with cardboard reinforcement on turnover tops and bottom.Offset printing all over.Quantity starting from 100 units.
PCPRINTSPN-361237-PBB-OFF
Upload File(s)